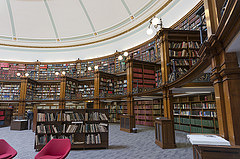 photo
credit:
Kate. Get the picture.
Facebook allows you to download an archive of  content you have posted on their platform. Google allows you to do the same with many of their services. Twitter will also provide you with an archive. As will many other social media platforms.
And yet, I don't know of a single community or forum software application that allows members to do this. I wouldn't be surprised if there is an option or two that does, but we need to do better and I want to push for that change.
I can think of reasons why it hasn't been a priority. Posts in an online community are seen more as being part of the whole, so there isn't necessarily a strong desire to download content separated from the larger conversations. In my 14 years of managing online communities totaling well over a million contributions, I have never once had a member request that they would like an archive of their posts. But that doesn't mean that it wouldn't be a welcome feature.

Read More