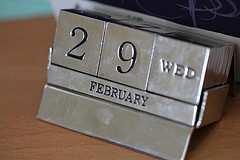 photo
credit:
Asiatic League
At the start of every year, I have a clean, empty calendar. On my computer, I have documents that contain lists of important dates, which I have created so that I don't have to remember them and, as such, can't forget them. I open these documents and add all of the important dates to my calendar.
Some of these items are personal, some are professional and some are even related to my communities. Just like you want to remember a friend's birthday, you want to remember when your community launched. To aid you in remembering, you should create a list of important dates that you can refer to at the start of every year.
Certainly, the day that you launched is a big one. The passage of time is one of the important milestones that you should celebrate with your community. But, are there any other important anniversaries of meaningful events in the history of your community? These would also be added to the list.
When it comes to staff members, I like to document key dates in their staff involvement. The day that they joined the staff and the day that they were promoted to a higher level of staff, if one exists. I also keep a list of birthdays for all staff members. That way, I can congratulate them on their staff anniversary and wish them a happy birthday at the appropriate times.
Do you have any annual events that occur in your community? For example, an awards program. When does the process surrounding that program need to begin? Those sorts of annual tasks can be noted, as can any maintenance tasks that you think you might forget.
Creating this master list gives you the peace of mind that comes with knowing that you have documented all of the important dates you don't want to forget, without having to try to remember them throughout the year. Trying to remember all of them without any backup is just setting yourself up to forget some.