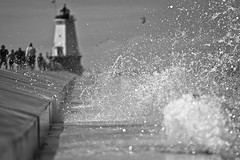 photo
credit:
music2fish2 (eric lanning)
ren asked: "What [do you] do when upgrading to new software causes a downturn in user engagement? How [do you] get it back?"
Thanks for the question, ren. For me, it relates to the general issue of change on communities and what you can do to make your changes more meaningful and widely accepted by your community. That is what I am going to cover in this article.
So that we stay focused, I am going to assume that you have given the change a lot of thought and have determined it to be worthwhile. If you have a staff, you have also asked for their feedback and improved the proposed change to a point where you are excited about it and are looking forward to rolling it out.
Read More