Posted by Patrick on February 17th, 2012 in
Press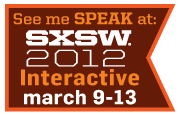 For the fifth consecutive year, I am fortunate enough to be speaking at South by Southwest Interactive in Austin, Texas.
What's different this year is that I will be on a panel for the first time, following two book readings, one Core Conversation (an audience focused presentation by 1 or 2 people) and one solo presentation.
The panel is called "American Copyright: Will Government Go Too Far?" It was created by Katie Sunstrom, an attorney at Lorance & Thompson. Joining us will be two more attorneys, David Snead and Mark Petrolis, Senior Associate at the Mudd Law Offices, in addition to my friend Jonathan Bailey, a copyright and plagiarism consultant at CopyByte and the author of Plagiarism Today.
The panel is on March 13 from 3:30 PM to 4:30 PM and it will be located in Salon A at the AT&T Conference Hotel at 1900 University Avenue. Here's the description:
Read More