Posted by Patrick on May 5th, 2010 in
Press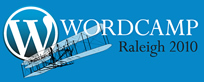 As previously announced, I will be speaking at WordCamp Raleigh in Raleigh, North Carolina. The event will be held from May 22 and 23 and I'll be speaking at 9:30 AM on May 23. On May 22, I'll be co-hosting a special, first ever live edition of the SitePoint Podcast, in person with prizes and special guests.
I will be leading a session on "Building Community Around Your WordPress Blog." I see it as a strategy talk with some tools mixed it. We'll talk about encouraging and stimulation community within the blog and outside of it. Tickets are available now.
I'm happy to say that I've added a second engagement only a few days after WordCamp Raleigh. I'll be speaking at Shift Conference, running from May 27 through 28 in Greenville, NC.

I'll be participating in a social media strategy panel along with Brad Proctor, the Director of Social Marketing at RoundTable Toys, Derek Brown, the organizer of the event and Melissa Gibbs, a marketing and communications consultant. In so many words, we'll be talking about social media for business, setting a strategy and all that stuff.
Shift is a two night event, held from 6 to 9 PM each night, and is free to attend. You can register on their website.
If you'll be attending, please let me know in the comments. I look forward to meeting you.