Posted by Patrick on February 17th, 2012 in
Press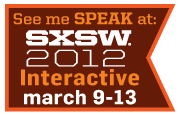 For the fifth consecutive year, I am fortunate enough to be speaking at South by Southwest Interactive in Austin, Texas.
What's different this year is that I will be on a panel for the first time, following two book readings, one Core Conversation (an audience focused presentation by 1 or 2 people) and one solo presentation.
The panel is called "American Copyright: Will Government Go Too Far?" It was created by Katie Sunstrom, an attorney at Lorance & Thompson. Joining us will be two more attorneys, David Snead and Mark Petrolis, Senior Associate at the Mudd Law Offices, in addition to my friend Jonathan Bailey, a copyright and plagiarism consultant at CopyByte and the author of Plagiarism Today.
The panel is on March 13 from 3:30 PM to 4:30 PM and it will be located in Salon A at the AT&T Conference Hotel at 1900 University Avenue. Here's the description:
During the week of SXSW in 2011, the White House's Intellectual Property Coordinator, Victoria Espinel, released a whitepaper calling for increased government crack-down on copyright infringement. Espinel's paper called for: stronger criminal laws related to online copyright infringement; increased surveillance of foreign websites marketing to US consumers and enabling law enforcement to wiretap purported "infringers" and share the results of those wiretaps with private "rightsholders." Law makers and big media rightsholders have concerns that piracy causes "economic harm and threatens the health and safety of American consumers." The legislature is reviewing the PROTECT IP Act and the Stop Online Piracy Act to address these concerns. Are the proposals commensurate with the purported threat? Will they even address the threat? Are the invasions on consumers' rights necessary and do such privacy concerns outweigh the supposed threat to the "health and safety" of American consumers?
That should be fun. Mainly, I can't wait to see Chrispian Burks, Jonathan, Wayne Sutton and Kevin Dees. I have only met Jonathan in person once, back in October of 2008. That was before I joined the Copyright 2.0 Show as a host and we developed our good friendship. The last time I saw Chrispian was in September of 2010. Far too long! That is in addition to many other friends and acquaintances.
I would love if you attended my session, but beyond that, I would love to meet up with you and/or any online community professionals. Please feel free to drop me a note in the comments or via email. If there are any community manager events going on during the conference, I'd love to hear about those, as well. I'll see you there!