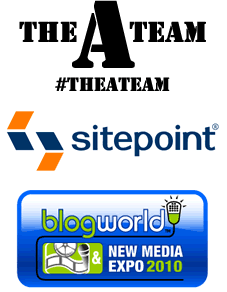 I am definitely excited about what is about to take place at BlogWorld & New Media Expo in Las Vegas. Not just about what I am doing individually, but what I am doing in collaboration with others, as part of a team.
Not only my fellow panelists, but also The A Team (Brandon Eley, Wayne Sutton and me – we're featured on 5 panels in all, with 2 book signings) and the SitePoint Podcast crew (Brad Williams, Kevin Yank, Stephan Segraves and me). This will mark the first time that the entire podcast team has been in one place at the same time, with Kevin coming all the way from Australia.
In addition to what is below, of course other random things will come up. We may do some impromptu podcasts. It wouldn't be a shocker to see at least one podcast host around the SitePoint booth on the expo floor at random times. And Brad's WebDevStudios.com will have a booth, as well. But, here are some definite, scheduled times where we have something specific going on, along with the room or location where it is happening. If you can come, we'd love to see you there.
Thursday, October 14
11:00 AM – 12:00 PM
"Online Marketing Inside Out" Book Signing
Conference Book Store

"Online Marketing Inside Out" was co-authored by Brandon Eley and Shayne Tilley and was published more than a year ago. But, they have yet to meet in person. That all changes now! It's a great book that I served as an expert reviewer on. I'll be here!
11:00 AM – 12:00 PM
"Location! Location! Location!" Panel
Islander I/3

And right after the signing, I'll be running to this panel on geolocation in support of Wayne Sutton. Also on the panel are Jeff Holden, Lawrence Coburn and Mike Schneider.
Friday, October 15
12:15 PM – 1:15 PM
"I'm Nothing Without My Fans" Panel
Islander G
I'll be joined by Asher Roth, D.A. Wallach and Wayne Sutton, as we discuss the power of fans online and how to cultivate healthy, mutually beneficial relationships with your fans. Full details.
2:00 PM – 3:30 PM
Live SitePoint Podcast (Livestream)
BlogWorld Expo Podcast Area on the Expo Floor
As mentioned, BlogWorld will be the first time that all four hosts of the SitePoint Podcast will be in the same place at one time – Brad Williams, Kevin Yank (all the way from Australia), Stephan Segraves and myself. We're going to do it big and do an hour and a half live group show. Bask in the brotherly goodness! Heh. If you can't make it in person, we'll be livestreaming online.
Saturday, October 16
10:30 AM – 12:00 PM
Live SitePoint Podcast
BlogWorld Expo Podcast Area on the Expo Floor
The podcast team will be back together to interview people for the show, live from the expo floor. It is unclear if we'll be livestreaming or not, but we will be there. The guys will be doing it until 12:00 PM, but unfortunately, I will have to leave early (around 11:15 AM) to get to…
12:15 PM – 1:15 PM
"Ethics and Social Media Marketing" Panel
Islander H/1
Not enough ethics in social media marketing? Fear not. We'll lay out the blueprint for an ethical social media marketing campaign, including guidance on choosing an agency to represent you in this space. Joining me on the panel will feature Brandon Eley, Jay Baer and Jeremy Wright. Full details.
1:30 PM – 2:30 PM
"Managing Online Forums" Book Signing
Conference Bookstore
I will be signing copies of my book at the conference bookstore.
3:30 PM – 4:30 PM
"Building an Irresistible Private Member Community" Panel
Tradewinds A/B 10
Lara Kulpa invited me to join this, my third and final panel, where we'll discuss strategies for building successful private member communities. Chris Garrett and Jeremy Wright will be on board, as well. Full details.
3:30 PM – 4:30 PM
"5 Strategies Bloggers Should Learn from Online Marketers" Panel
Islander D/5

Unfortunately, I will have to miss this session led by Brandon Eley. He has put together a great panel including Scott Fox, Scott Stratten and Shayne Tilley. They'll be talking about some sage lessons that bloggers can learn from online marketers to boost conversions and be more successful online.
Finally, here is my SCHED profile on the BlogWorld website, which lists some panels and events I am interested in attending. I look forward to seeing you there!