Posted by Patrick on September 20th, 2010 in
Press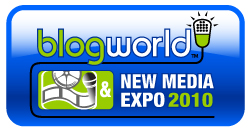 BlogWorld & New Media Expo is less than a month away. For the third consecutive year (read my 2008 and 2009 recaps), I'll be speaking at the event, but I will have more going on at the conference than ever before.
I'll be speaking on three panels, two of which I developed and will moderate (note: it's not the typical moderator format, I will contribute equally). So, that's pretty crazy.
Panel #1: "I'm Nothing Without My Fans"
Description: Fans are consumers in love. We'll discuss how artists and performers build meaningful relationships with their fans through social media and how all industries can succeed using their strategies. This session includes the art of interacting with and engaging fans online, including the management of your stream, responding to fans and managing criticism. We'll also touch on fan sites, blind fans, "criticism = hate" and the power of fans for both good and evil.
The idea for this session was borne out of conversations with my friend Wayne Sutton. When I was building the lineup for this panel, I eventually decided that it would be great if we could have two social media veterans with deep experience in the space and then two artists who personally engaged in the space directly, interacted with fans and did it well.
Wayne and myself are the two social media people. Wayne is a veteran social media strategist, the Business Development/Marketing Strategist for TriOut and Partner at OurHashtag.
The two artists are D.A. Wallach and Asher Roth. D.A. is the lead singer of the band Chester French (signed to Pharrell Williams' Star Trak label, distributed by Interscope Records). They released their debut album, "Love the Future" in April of 2009, supported by the lead single "She Loves Everybody," which reached #1 on the Billboard Hot Dance Singles Sales chart and #2 on the Hot Singles Sales chart.
Asher (School Boy/SRC/Universal) released his debut album "Asleep in the Bread Aisle" in April of 2009, achieving a top 5 debut and an RIAA certified Platinum single with "I Love College," which peaked at #12 on the Billboard Hot 100 and charted internationally.
This panel has taken months to fully develop, but I am so thrilled with the lineup and cannot wait to deliver it, so it was all worth it. Add the panel on SCHED (October 15 at 12:15 PM).
Panel #2: "Ethics and Social Media Marketing"
Description: There are many agencies and "social media marketers" that simply take your money and post comment spam on blogs. For them, it's a short term game, meant to impress an unknowing client with padded numbers. Meanwhile, the client is actually being hurt because they are tied to these unethical activities. Social media marketing isn't the problem. The problem is a lack of ethics and, perhaps, of experience. In this session, community managers and agency veterans alike will come together to talk about ethical marketing in social spaces, including blogger and community outreach, how to do it right and what to look out for when considering an agency.
The idea for the panel really started with individuals and organizations who attempted to take advantage of my communities in devious, unethical and misleading ways. One example is people who promote something, act like they aren't affiliated with it, and mislead my members. I deal with these people in a very direct and severe manner.
Again, I'm so happy with the lineup that I put together for this one. I'll be joined by Brandon Eley, Interactive Director at Kelsey Advertising & Design, Owner at 2BigFeet.com and co-author of "Online Marketing Inside Out," Jason Baer, Social Media Strategist at Convince & Convert and co-author of "The Now Revolution" and Jeremy Wright, CEO at BNOTIONS and Founder of b5media.
On a personal note, Brandon and Jeremy are long term friends of mine and this will be the first time we've spoken together, so that will be special for me. Add the panel on SCHED (October 16 at 12:15 PM).
Panel #3: "Building an Irresistible Private Member Community"
Description: Paid membership communities are popping up all over the place as a way to offer more exclusive content and access to people with a specific interest or goal. In order for a private membership community to succeed, you'll need to offer the right benefits not only to entice people to join, but to ensure that they stay. That's what we'll focus on in this session: creating value, converting visitors to paying members and keeping them coming back month after month.
This panel was conceived by Lara Kulpa, Community Manager for ProBlogger.com and Owner of Ginkgo Consulting. She invited me to join, alongside the final lineup which will feature new media consultant Chris Garrett, co-author of the "ProBlogger" book and Jeremy as moderator. Another solid lineup. Add the panel on SCHED (October 16 at 3:30 PM).
But, that's not all. In additional to these panels, BlogWorld will also mark the first time that all four hosts of the SitePoint Podcast – Brad Williams, Kevin Yank, Stephan Segraves and myself – have been in the same place at the same time. We'll be recording a couple of shows and livestreaming from the event. And I may even have some additional things happening when all the dust settles.
So, that's what I have going on at BlogWorld. Will you be coming? (If you haven't registered, but are thinking about it, you can use the coupon code IFROGGYVIP for 20% off of any pass when registering on their website). What are you excited about?