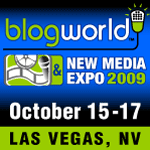 For the second consecutive year, I made the pilgrimage to the holy land that is Las Vegas for Blog World & New Media Expo, which ran from October 15-17.
Attending conferences like this is always a reunion of sorts where I hang out with people I already know and meet people face to face for the first time. Of course, there are plenty of new people, too, and opportunities to learn, share and have fun. I spoke on a panel and at a booth and had a book signing, as well.
One reason that this conference was different from every one that I have gone to before was because it was the first one attended by my brother Sean, a college student. It was great to have him with me during the event. For a majority of the time, I hung out with him and my friends Brandon Eley, Chrispian Burks, Stephan Segraves and Wayne Sutton.
I had wanted to have a recap up sooner, but I just haven't had the opportunity. I've been writing this for weeks, on and off. Better late than never. Fair warning: this is my personal recap and as such it goes into little, minute details that you might not be interested in. You've been warned!
Wednesday, October 14
Flight wise, it couldn't have gone better. We arrived in Las Vegas in the late afternoon and Darren Rowse had been kind enough to invite me to his "ProBlogger and Special Guests" dinner at Fiamma Trattoria and Bar at the MGM Grand. I had some time to freshen up, change, buy my monorail pass and arrive on time. Lara Kulpa organized the dinner (check out her posts here and here), which was excellent. Other guests included Chris Brogan, Brian Clark, Zane Aveton, Lisa Morosky, Jen Wilson and Reem Abeidoh.
The food was great and they kept bringing out more of it. Rounds of appetizers, an entree, any drink you wanted, treys of desserts, dessert drinks… you name it. It was a tad wasted on me as I barely ate anything. I just had no appetite. I'd like to do it again when I'm starving! Haha. But, it was a great, special experience that I'll never forget and there was a lot of great conversation, primarily with Zane and Brian, who were seated to my left and right. I'm really appreciative of Darren and Lara for having me.
For some reason, I thought the World Famous Jason Falls' Mall Bar Tweetup™ was on this night and even took a break from dinner so that I could call Jason and check. Sure enough, Chris was right – it was Friday night. Which was a good thing because I didn't want to miss it. After dinner, I headed back to the hotel and called it a night.
Thursday, October 15
Unsure if the conference would have breakfast or not, we ordered some breakfast from room service and headed over to the convention center to get our badges. I collected mine pretty easily, as the speakers line was quite short. But, my brother had more of an issue. He was already registered, but it was unclear whether or not he needed to use the computer to sign in and then get in line or just get in line. He was all set registration, so I told him to just get in line. Wrong was I! After waiting in line for a while, he found that he needed to use the computer. But, it wouldn't accept his name. After a few tries and some help, I was able to get his name to come up in the computer.
Badge collected, I caught the second half of the "B2B Social Media" panel with Kipp Bodnar, David B. Thomas, Kyle Flaherty and Mica Viehman. Kipp and David are both part of the North Carolina contingent, as I like to call it, and Kipp is a co-organizer of the Social Media Business Forum, which I spoke at shortly after Blog World Expo. I've been able to spend some time getting to know both and I'm glad I have.
The luncheon keynote was next with Kara Swisher interviewing Scott Monty. The lunch was OK, I guess. There was a salad that was OK, but then they only had two entree choices: beef or a Vegan or Vegetarian option (I forget which) that didn't sound particularly tasty. Usually there is an option between red meat and nothing that has ever moved. So, I just ate the dessert, which was an Apple cobbler.
I attended the keynote address on sponsored conversations with Wendy Piersall, Jennifer Leggio, Ted Murphy and Jeremiah Owyang. Later, I was able to sit down and chat with Wendy, which was nice since it had been a while since we last spoke.
Next, I headed over to "All You Wanted to Know About Web Analytics" because it had my friend Ricardo Bueno listed on it. Little did I know that Ricardo was only going to introduce it and then leave. But, I was glad I made it because I enjoyed the presentation by Gahlord Dewald, anyway, and was glad to have met him.
My final presentation of the day was the closing keynote by Chris Brogan, who knocked it out of the park, saying that the difference between an audience and a community is that "one will fall on its sword for you and the other will watch you fall." Great stuff.
Brandon mentioned that Paul Stamatiou was going to be having a dinner with a group somewhere (P.F. Chang's ended up being the destination) and so we headed over there. The group grew and eventually ended up being Brandon, Sean, me, Paul, Courtenay Bird, Eduardo Merille, Adam Wallace and Brian Simpson. We had told Chris, Mark Van Dyke and Stephan about the dinner, but they arrived a little later than we did and, well, the table was full and we were awful friends. They ended up having to wait a while and get a separate table.
After dinner, we headed over to the aforementioned World Famous Jason Falls' Mall Bar Tweetup™. Jason is a great guy, so I wanted to be sure to show up in support. That was where my day ended.
Friday, October 16
I had a late morning book signing for "Managing Online Forums" that I shared with Brandon, who co-authored the book "Online Marketing Inside Out." Unfortunately, when it came time to sign, neither of us had a sign next to the table we were given. Nor were there any chairs. And the lady at the bookstore told us that we couldn't have any books at the table (eventually we did get one copy each, though) and acted like it really wasn't her problem.
The signing was for one hour, starting at 11:00 AM, but we still didn't have anything by 11:15, so I went walking and found someone from Blog World Expo who set the signs up for us. We never did get chairs. It was kind of like "two random guys standing behind a table" for a good portion of the signing. But, we had fun and Reggie Nicolay came over and bought a copy of my book, saving the day. Muhammad Saleem stopped by to chat for a while and I was so glad he did. Grant Griffiths, as well. A big thanks to all three of them.
Chris Brogan signed right after we did, so I hung around and bought a second copy of the book he co-authored with Julien Smith, "Trust Agents."
After that, I caught the remainder of the "ROI Smackdown: New Media vs. Traditional Media Advertising" panel with Muhammad and Beth Harte, who I really wanted to meet, alongside Stephanie Agresta, Deborah Micek and Rob Key. I got a chance to talk Beth afterward, which was great.
Jesse Stay was another person I wanted to meet and he was signing copies of his book "I'm on Facebook – Now What???" from 3-4 PM, so I went over and bought a copy and had a nice conversation with him.
My panel was shortly thereafter as I organized, moderated and contributed to the "Social Media: The Bad and The Ugly" panel. I had an amazing lineup with me including Amber Naslund, Director of Community at Radian6 and blogger at Altitude Branding; Wayne Sutton, Partner at OurHashtag and blogger at SocialWayne.com and Robert Scoble, Managing Director at Building43.com at Rackspace and blogger at Scobleizer. Here are the slides from the session:
It was my first time moderating a panel. I had decided that, if possible, I wanted to go through the whole panel without looking at Twitter. We gave people a hashtag and encouraged them to post their thoughts, but made it clear that we would be focusing on the people looking at us – the face to face interaction. I will be writing more about that particular strategy later. Wayne, Amber and Robert all readily agreed.
For me, most of my feelings about how a talk goes come from what people tell me afterward. And by that standard, it went really well. I heard a lot of great, really kind words from people and that meant a lot to me. Once we got going, it felt pretty good. Wayne, Amber and Robert were all great. We had a natural, unspoken chemistry that really played out, between our different approaches and styles. It was an honor to be presenting with them and to be a part of a panel that was really well received.
During the session, we did a Twitter Lists demo. At that time, only a select few had access to them – Robert was on that list (I hadn't seen them yet). The Twitter Lists demo wasn't planned, Robert volunteered to do it, some people in the crowd wanted it, so we rolled with it. We were making good time, so we had room. Robert gave a great demo and it proved to be a nice subplot for the attendees of the session. We were perfect time wise, had some time for Q&A and it really couldn't have gone better.
It was great to see some friendly faces in the crowd. My brother, Brandon, Chris, Stephan, Darren and Mari Smith all came out and that meant a lot to me. I know I'm forgetting people, too, and I'm sorry. To everyone who came out: thank you very much. It meant a lot to me.
Some other faces that I remember from the crowd were Paul, Courtenay, Kit Mueller (who I had a great conversation with the next day), Louis Gray (who I had the pleasure of talking to after), David B. Thomas, Eduardo, Chris Miller, Denise Wakeman and others.
It was funny because, before the conference, I had held a giveaway for an event pass and the winner was Jason Keath. As part of winning the giveaway, I highlighted the blog post that won him the pass; link, Twitter name and all. And he wasn't there! It was a funny moment. Jason came up right after the session and I enjoyed chatting with him during the conference. He also won a copy of my book at the Skimlinks booth on the trade show floor (more on that in a moment).
After the talk, Rachel Luxemburg, Group Manager of Developer Relations for Adobe introduced herself because I had talked about PhotoshopForums.com a bit. It was nice of her and great to meet her.
As soon as I got out of the room, I did an interview for WebProNews with Abby Johnson. Abby is really nice. You can watch it below.
As my awful, awful luck would have it, the "Chad Vader and How to be Successful on YouTube" panel was scheduled at the very same time as mine. Led by the creators of the Chad Vader series, Aaron Yonda and Matt Sloan of Blame Society Productions. I really, really wanted to go to it, but… of course I couldn't. My brother made the ultimate sacrifice, attending mine instead of theirs. We're huge fans of them.
After all the buzz ended, I went to grab some dinner with Brandon and Jeremy Wright. We were heading over to The Mirage because that is where the opening night party was being held. As we got in line for a cab, we bumped into Rohit Bhargava who was heading there, as well. So, we all ate together over at Cravings. After the meal, Rohit and Jeremy headed to the party, which was at Jet. But, me and Brandon hung back and sat with Chrispian and Mark. And then we went to the party.
I caught up with a couple of people (like Greg Swan), introduced some folks and then spotted Wayne. We decided get out of there a little early and head back to the hotel. But, it didn't quite work out that way because Wayne's phone was dead. We were literally 5-10 minutes from the hotel, but Wayne… well, he spotted a dark alley that had an outlet in it and decided that he had to plug in there.
OK, so that's not entirely accurate. But, it makes for a fun story. He was looking for an outlet though and he had to stop, just short of the monorail that would deliver us back to the Hilton in mere minutes. David B. Thomas has the photographic evidence. While we were there, another group of people walked by and we stopped and chatted for a bit. Lucretia Pruitt was in there, among others, and I met Ewan Spence. But, we did eventually make it back to the hotel.
Saturday, October 17
I attended the morning keynote, which saw Brian Solis moderating a celebrity themed discussion of social media, with panelists Jermaine Dupri, Anthony Edwards, Robin Antin and Matt Goss. I attended mostly for Dupri, who I'm a fan of.
The next session I attended was "How to Earn a Big Ole' Pile of Money by Making Lots of Killer Blog Content." It featured Rosemary Zalewski, Warren Whitlock, Dan Gray and J.B. Glossinger. I have an interest in the subject, obviously, but also I wanted to support J.B. Unfortunately, he was under the weather, so we couldn't really talk. I may have ended up catching the illness, anyway.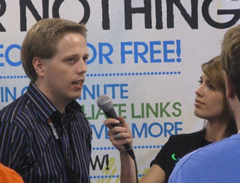 photo credit: Sean O'Keefe
My final engagement at the conference was an event at the Skimlinks booth. They lucked into one of the best booth locations possible – right at the very front, to the left. You couldn't not see their booth. During the show, they were giving out copies of Guitar Hero, copies of my book and free trials of their service (which is free to use, but they usually take a cut of the money that you generate).
I've written in detail about Skimlinks before, but basically, what they do is check all links posted on your website to see if any of the sites linked to have an affiliate program. If they do, you'll get credit for any sales generated through that link. It's simple and works great. It's a really cool service and that's why I was interested in working with them in some small way. They bought some copies of my book, I signed them and I appeared for 20 minutes, participating in a community and monetization centric Q&A, hosted by the lovely Hannah Keys. You can watch the Q&A below:
The booth was also manned by Joe Stepniewski and Hardip Kaur. After the Q&A, I stuck around for a while longer, answering questions from and talking with the people who attended. I would say that, in all, there was probably 40-50 people or so that at least stopped for a moment and maybe the most we had at any one time was 20 or so. Chrispian, Wayne, Brandon, Jason Keath, my brother and Stephan all came out in support.
I also met Lewis Howes, Bryan Elliott, Laura-Jo Boynton and D.J. Lein. The talk went well and I think, during the conference, I must have personally introduced at least 20-30 people to Skimlinks. They're cool people with a good service, so I'm happy to support them and have them support me.
Another cool person I got to meet was Jason Peck. After the Skimlinks talk, he did a one question interview with me asking me what the ultimate mobile app was. It was opportunity #367 I had, at the conference, to make fun of my cell phone. Watch:
My next stop was "Crossing Borders: Use Blogs to Reach a Multicultural Audience," which I attended to support Wayne, but it was an interesting discussion that also featured Jose Villa, Ana Castro-Roca and another gentleman who's name I forget and who is not in the Blog World Expo program (sorry).
My final panel of the conference was the "How Twits Lay Golden Eggs – The Art of Social Engagement for Business" panel with Nicole Nicolay, Jodee Rich, Chris Brogan and Nick Halstead.
The closing keynote was, more or less, a talk show hosted by Guy Kawasaki. As his guests, he had Kevin Pollak, Jenny the Bloggess (note: some content not suitable for all audiences) and Aaron Yonda and Matt Sloan of Blame Society Productions. It was a really funny keynote in all; perhaps not particularly clean, but hilarious.
Sean and I decided to forgo the closing party because our flight was out in the morning, we had to be up early and had to pack. So, we headed back to the room, ordered room service and got to work.
Sunday, October 18
Up early and really, right on schedule. Better yet, the car company I had booked an SUV with was out of SUVs, so they sent over a red limo. We got through security, only to find that our flight had been delayed by an hour (if I recall). But, it wasn't delayed further and our connection had a large layover, anyway, so it all worked out and it was smooth sailing for the rest of the way home.
One part of the conference I left out chronologically was the trade show, which I visited a few times. I made a point to visit the Blame Society booth and meet and talk with Aaron and Matt and buy some of their stuff (I bought my brother's Christmas gift right in front of him) as well as to witness Chad Vader live, which was really funny.
Some of the other people I met included Claudio Cossio Saucedo, Bruce Pisetzner, Rickard Kjellberg, Caroline Williams, James Tamplin, Eleanor Prior, Marla Schulman, Linda Sherman, Brett Petersel and Dan Woolley. And I saw a number of people I already knew, like Connie Bensen, Bryan Person, Calvin Lee, Dave Taylor (who I had a nice chat with) and Deb Ng (who I stopped and chatted with a few times and was a friendly face throughout the entire event).
I would like to extend a big thank you to Rick Calvert, Dave Cynkin, Jim Turner and everyone at Blog World & New Media Expo for having me and for putting on a show that I and my brother enjoyed. I look forward to being a part of the conference again next year, if given the opportunity.