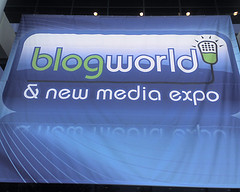 photo
credit:
Nick Bastian Tempe, AZ
Update 2: The giveaway is now closed! Winner to be announced shortly.
Update: The pass has now been upgraded to a Full Access pass!
On October 16 at 4 PM in Las Vegas, I'll be speaking at Blog World & New Media Expo on the "Social Media: The Bad and The Ugly" panel. The focal point of the panel is trends in social media that concern us, in so much that they could hurt the growth of the medium as a whole. This includes things like unreasonable time expectations, the sense of entitlement some people have online and more. If you're already planning on coming, please mark yourself as attending on the BWE calendar.
I'll be joined by an awesome trio: Amber Naslund; Director of Community at Radian6 and blogger at Altitude Branding, Wayne Sutton; Partner at OurHashtag and blogger at SocialWayne.com and Robert Scoble; Managing Director at Building43.com at Rackspace and blogger at Scobleizer.
Blog World Expo is a great conference and if you are a journalist, blogger, online writer (those last 3 are often one in the same!), podcaster, video blogger, traditional media, community manager, forums administrator, marketer or simply a person in business that needs to take advantage of the opportunities offered online (and who doesn't fit in that category?), I'd definitely recommend going if you have the opportunity. In the interest of disclosure, I've partnered with them this year to help promote the event.
To that end, in order to help someone attend the conference and hopefully our panel, Blog World Expo has supplied me with a Full Access pass to give away. This includes access to everything that Blog World Expo has to offer. All conference sessions, all parties, the exhibition hall, the full access conference break area, the partner programs and more. It's a $1,195 value (you can get it down to $956 with the coupon code IFROGGYVIP, good for 20% off on any pass). See their registration page for more info. That's not the only prize, though!
In addition, during the actual panel, right before we do Q&A, I'll mention you, your Twitter handle and your post and provide those in the room with a link to it (which will be a shorten bit.ly link).
In order to win, here is what you need to do:
Write a post on your blog (either a text or video post), talking about a trend in social media that concerns you, that you feel hurts the medium as a whole. Think carefully and make sure it doesn't fall into Chris Brogan's "You're Doing It Wrong" category. Please ensure that the entry, and your site, are work and generally family friendly, as well. My taste skews toward responsible, respectful writing. Beyond that, it's up to you. It can be as long or short as you want.
In your post, link to this post and link to the Blog World Expo site. If you want to link to the panelists, you can (and it's appreciated), but it won't help or hurt you either way.
Leave a comment on this post with a link to your post.
Tweet out a link to your post using the tags #bwe09 and #SMBadUglyBWE.
And that's it, you'll be entered. The deadline to have this completed is Tuesday, October 13 at 12:00 PM ET sharp. At that point, I will pick one post from all posts that meet all of the requirements above. The one I pick will be the one I find the most interesting.
Thank you to Dave Cynkin and Blog World Expo for providing the pass. Best of luck to anyone who enters. I look forward to seeing you at the conference!