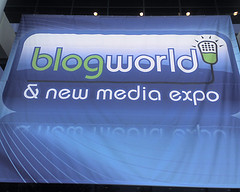 photo
credit:
Nick Bastian Tempe, AZ
Blog World & New Media Expo starts today at the Las Vegas Convention Center in Las Vegas, Nevada. If you're coming, I'd love to meet you. I'll be around during all conference hours (here's my BWE sched), but there are three scheduled events that I'll be taking part in.
Friday, October 16, 11:00 AM-12:00 PM: Book Signing
At the Blog World Expo bookstore, powered by Barnes & Noble, I'll be signing copies of "Managing Online Forums." Brandon Eley will also be signing "Online Marketing Inside Out," a book I served as an expert reviewer on.
Friday, October 16, 4:00 PM-5:00 PM: "Social Media: The Bad and The Ugly" Panel
I'll be joined by Amber Naslund; Director of Community at Radian6 and blogger at Altitude Branding, Wayne Sutton; Partner at OurHashtag and blogger at SocialWayne.com and Robert Scoble; Managing Director at Building43.com at Rackspace and blogger at Scobleizer. We'll talk about trends in social media that concern us and could harm the growth of the medium as a whole. These are also trends that could harm your brand, scare people away and damage your reputation. Note: you can only get into this panel if you have a full access pass. Please consider RSVPing on sched.
Saturday, October 17, 2:00 PM-2:20 PM: Forums Management and Monetization Q&A at Skimlinks Booth

In the exhibition hall at the Skimlinks booth, I'll be participating in a 15-20 minute Q&A about forums management, cultivation and monetization. They'll also be giving away 10 copies of my book during Friday and Saturday.
It should be a tremendous event. If you're coming and would like to meet up, please drop me a note on Twitter @patrickokeefe. See you there!