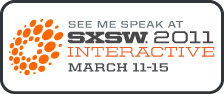 South by Southwest (SXSW) Interactive 2011 is just around the corner: March 11 through 15 in Austin, Texas.
Not only will I be in town for the entire event, but I'm happy to say that I'll be presenting "27 (Fun!) Ways to Kill Your Online Community" on March 13 at 5 PM in Salon K at the Hilton.
The inspiration for the session came from a post I wrote here, titled "10 (Super Fun!) Ways You Can Kill Your Online Community."
This is going to be a fun and extremely fast-paced session. You'll learn how to manage an online community backwards. You'll become an expert in the quickest ways to kill your online community, using tips you can take and use today to kill yours as soon as possible!
You can even take these skills and work with clients who want to hire you to kill their community, too. Of course, if you want to attend the session to learn from those bad methods and do the opposite, in order to build a successful and well-run online community, you can. But, I'm not sure why you'd want to do that.
The hashtag for the session is #killcommunity. Together we can – and we will – kill online community! Please join me and let me know (in the comments), if you'll be at the conference and/or in the session. You can also mark yourself as attending on Lanyrd.