I have been busy booking speaking engagements for the late summer, fall and early winter and as some of them are coming up, I thought that I would share all of them with you, in case you have any opportunity to attend. I hope to have even more to announce soon.
Modern Media Man Summit (Atlanta, September 9-11)

I'll be delivering a solo presentation, "Jack Bauer's Guide to Managing Online Communities," at Modern Media Man Summit at the Sheraton Atlanta Hotel in Atlanta, Georgia on September 10. The conference runs from September 9-11.
This is a presentation I have been wanting to give for a while and I feel like this is an appropriate venue for it. Who, if not Jack Bauer, is a modern media man? The presentation will provide an interesting and fun narrative through which to share some real life lessons in managing online forums and communities.
Tickets are available for $225 with additional, special VIP events costing $75 each. Register online.
ConvergeSouth (Greensboro, North Carolina, October 1-2)

After attending the last ConvergeSouth in 2008 and having a great time, I'm returning to speak on a dual presentation with my friend Wayne Sutton, social media strategist, Business Development/Marketing Strategist at TriOut and Partner at OurHashtag. It's called "Personal Branding & How to Break into Social Media" and it's scheduled for October 1.
The conference will be held from October 1-2 in Greensboro, North Carolina, at the North Carolina A&T State University's School of Journalism and Mass Communication.
Wayne and I have both built our brands online ourselves, by and large, and from that first hand knowledge will come this presentation, which will be in the intermediate experience level.
Tickets are available, starting at $75 with discounts available for students and low-income individuals. Register online.
BlogWorld & New Media Expo (Las Vegas, October 14-16)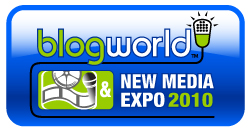 One of the most important conferences in social media, BlogWorld & New Media Expo is an excellent event that I have attended the last two years, speaking a combined three times. For a detailed account of my experiences, please check out my recaps from 2008 and 2009. Held in Las Vegas, Nevada from October 14-16, the event moves to Mandalay Bay this year.
Though my speaking engagements (and all of the details) are still being nailed down, there are a couple of sessions that are confirmed.
The first is the "Building an Irresistible Private Membership Community" panel, led by Lara Kulpa, Community Manager for ProBlogger.com and Owner of Ginkgo Consulting. The panel will also feature new media consultant Chris Garrett, co-author of the "ProBlogger" book. The session will focus on the creation of an engaging private member community, enticing people to sign up and more.
The second panel is an idea that I had, "Ethics and Social Media Marketing." It stems from my experiences with unethical social media marketers, like Sports Legends Challenge and others. Joining me on the session is a team of veterans that I respect: Brandon Eley, Interactive Director at Kelsey Advertising & Design, Owner at 2BigFeet.com and
co-author of "Online Marketing Inside Out," Jay Baer, Social Media Strategist at Convince & Convert and Jeremy Wright of BNOTIONS, who also founded b5media.
I have known Jeremy and Brandon for roughly 8 years or so and they are both close friends (and friends with each other) and this will be the first opportunity we've had to share a presentation. So, it's really special to me and I can't wait.
Tickets are available, starting at $395 (excluding single day or exhibits only passes). Register online.
indieconf (Raleigh, November 13)

Michael Kimsal, an acquaintance of mine, is launching indieconf this year in Raleigh, North Carolina on November 13. It'll be held at the McKimmon Center and is focused at independent web professionals.
My solo presentation is "Marketing Yourself as a Freelancer on an Online Community." We'll discuss the power of online communities and forums as networking tools and how to get the most out of them as a freelancer through genuine interaction and participation.
Tickets are available, starting at $79. Register online.
Are You Coming? Please Let Me Know!
If you are coming to any of these events, please let me know in the comments as I'd love to meet you. If you have any questions about these events or my upcoming presentations, please feel free to ask.
Thank you for reading and for your interest.