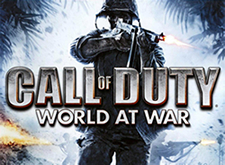 Call of Duty: World at War was released on November 11, 2008. 7 years is a long time in gaming, but it's especially long for the Call of Duty series, which produces a brand new, big budget title every year.
I'm a big fan of the Call of Duty series and have spent many hours playing the games. The zombies mode, introduced in World at War, accounts for a majority of those hours. Most of that was co-op with my brother, Sean. My youngest brother, Trent, joined the team when he was old enough.
The zombies mode is such an incredible value-add for the series. I have never, ever felt like I didn't get my money's worth out of a Call of Duty game. I spend around $100 for each game. $50 for the game itself, and then another $50 for the extra content they release over the next year. For the amount of time I spend playing zombies alone (putting aside the main game content, as well as online multiplayer), the value I receive for that $100 is immense.
Read More