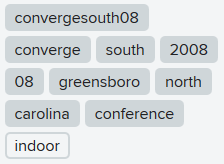 When I opened Twitter on Monday, one of the first tweets I saw was this message from Heather Champ. Champ, a well-respected mind in community circles, is the former director of community at Flickr, a role she held for five years.
In the tweet, Champ criticized Flickr's decision to automatically apply tags to previously uploaded photos. These tags were generated by image recognition technology. She called the move "so community hostile that I fear my head may explode from even thinking about it." In a follow up tweet, Champ further highlighted a settings page within Flickr where she had specifically indicated that she was the only person who could add tags to her Flickr uploads.
Jessamyn West, also well known in the community space due to her work on MetaFilter, tweeted similar criticism.
Read More