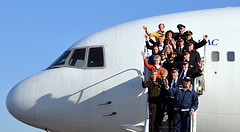 photo
credit:
JL Johnson | AviationGeek.net
On Thanksgiving, television producer Elan Gale live-tweeted his side of a contentious exchange with another passenger, on board a flight. If you haven't heard the story, you should read this Storify post. Be sure to click "Read next page" at the bottom of the embedded tweets and photos, as there are a couple of pages.
There is a lot of speculation about this story and you can do a Google search for that. I don't know that I believe the story (edit: looks like my suspicions were correct). But for the sake of this article, let's assume that the story is true and that it is precisely as Mr. Gale described, from his notes, to Diane and her personality.
My family has spent a lot of time working in the service industry, but I don't think much of Mr. Gale's actions. It's hard to take a high ground, as he attempts to do on his blog, when your actions are no better (and, in my opinion, worse) than the target of your criticism.

Read More