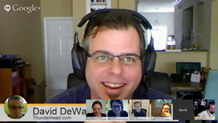 How do you welcome new members to an established, active online community? That was the topic of last Friday's #CMGRHangout, a weekly Google+ Hangout presented by My Community Manager.
The panel discussion featured hosts Jonathan Brewer and Sherrie Rohde, alongside Brian Fanzo, David DeWald, Whitney Klinkner and me. This was my second time on the program and, once again, it was a pleasure.
By using different strategies and tactics, you can definitely have an impact on the percentage of people that join your community, that choose to contribute and that stay. There are many different ways to go about that and we discussed a lot of them.
In order for you to know what to expect, here are the questions that the panel answered:

Read More