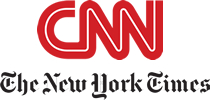 News organizations and online comments. If you think about that combination, what comes to mind?
There was a time when many regarded the comment sections on mainstream media sites as an example of some of the worst discourse on the web. But it is slowly getting better. Among the community management professionals leading the charge, at the highest levels of the media, are Bassey Etim and David Williams.
Respectively, they work as community managers at The New York Times and CNN. Both have been in the field since 2008, both lead the teams responsible for the moderation of comments posted on their news organization's website.
I've known David for a few years now and just recently connected with Bassey. They are tremendously smart community managers and experts in moderation. If you work in this profession, you should know their names. They deal with moderation at a volume that few can fathom, in an environment that is highly charged, in a space where many people expect to be able to say their piece, no matter what that is, without restriction.

Read More