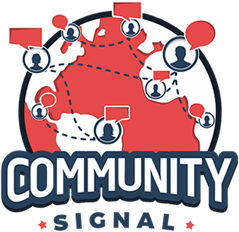 I'm so excited to introduce Community Signal, a new weekly podcast for online community professionals.
This is going to be a very high quality, well-produced community-focused podcast. This isn't a social media podcast or a marketing podcast – it's a community podcast.
My first guest is Bill Johnston, one of my favorite thinkers in the community space. We talked about what happened when marketing automation became a community problem at Autodesk, why communities need to partner with networks and the community industry's fractured leadership. I really enjoyed our conversation, and I hope you will, too.
Thank you to Emoderation (especially Tamara Littleton and Blaise Grimes-Viort) for sponsoring our first run of episodes. The show that I envisioned would not have been possible without their generous support.
That support allowed me to reunite with Karn Broad, who produced the award-winning SitePoint Podcast that I co-hosted, and is my producer on this show. We were also able to do a number of other things to give the show a nice polish that matches the hope I have for the show and the quality it will represent.
The podcast is available on iTunes and Stitcher, as well as good old fashioned RSS and email. If you do give the show a listen, I would love to have your feedback.
Thank you for reading.