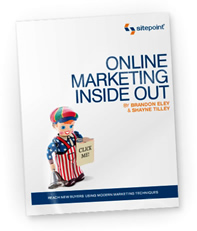 SitePoint has a new book out called "Online Marketing Inside Out" and it's special to me for a few reasons. First, it's co-authored by my good friend Brandon Eley, who I've known for like 7 of 8 years. The other co-author is Shayne Tilley, who I have talked to many times and like a lot, as well. I'm really happy for them and want it to do exceptionally well for them – I'm sure it will. Finally, I contributed to the book, working as an expert reviewer on a pair of chapters. This marks the seventh book I've contributed to in one way or another. My friend Ted Sindzinski served as an expert reviewer, as well.
All of that said, I've had an opportunity to read a good portion of it and scan various other aspects of it and it's a great book, highly valuable to anyone looking to grow their online marketing knowledge. Not just that, but the book is also useful for rounding out and broadening online marketing experience you may already have. For example, you may be well versed in social media – but not in e-mail marketing. Or you may be an expert on e-mail marketing, but know nothing about landing pages. The book will help you to become more well rounded when it comes to online marketing.
Marketing certainly can be a part of managing an online community, depending on the situation you are in as a community administrator or manager, but even if you are not responsible for marketing, it can be good to have an idea about it, as well, so that you can clearly communicate with the person who is.
All in all, if you have any interest in online marketing at all, I'd pick it up. You can pre-order a print copy on Amazon.com (I imagine it'll be shipping soon enough) for $19.77 or you can buy it directly from SitePoint for $29.95 plus shipping ($4.95 in the U.S., $6.95 in Canada and $9.95 to Australia, France and the U.K. and many other countries) and get a free eBook by the awesome Darren Rowse of ProBlogger. The eBook alone is selling for $19.95, so that sounds like a good deal to me.
You can also take advantage of the bundle deal if you purchase an eBook copy of "Online Marketing Inside Out," which will run you $29.95, but will not cost any shipping. (You can get both the eBook and the print book for $39.90 at SitePoint, plus shipping of the print copy).