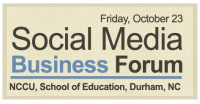 Shortly after I get back from Blog World Expo 2009, I'll be heading to Durham, North Carolina for the Social Media Business Forum at the North Carolina Central University School of Education. It's being organized by Kipp Bodnar of Howard, Merrell & Partners, Wayne Sutton of OurHashtag, Ryan Boyles of IBM and Jeff Cohen of OurHashtag.
My specific presentation(s) are not yet set, but the speaking lineup looks really cool and includes people like Jason Falls of Social Media Explorer, Wayne, Kipp, Jason Keath of Social Fresh, Angela Benton of BlackWeb20.com, Laurie Smithwick of kirtsy and others.
If you're interested in attending, the early bird registration of $125 runs through September 18. After that, it'll be $250. I look forward to seeing you there.