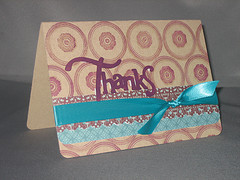 photo
credit:
Etsy Ketsy
I talk a lot about appreciation. I believe in appreciation and the power of it and how important it can be to the growth and quality of a community.
There are different ways that I express appreciation for people within my communities, both public and private. But, I make appreciation part of my day to day efforts and, as such, it is programmed in me is part of the natural way that I manage my communities.
May 15 marked five years since Heidi Wilmott, ninjanurse on KarateForums.com, had been promoted to Sensei at the site. Sensei is what we call moderator. She has been on staff for nearly 7 years and has been a member for more than 7 years.
I believe that it is a rare occurrence for anyone to have a good moderator on their team for as long as 5 years. It's also a gift to be able to be so familiar with someone. For anyone to be around that long, most likely, you and that person must work together well. And that is the case here.
I decided that I wanted to post an announcement drawing attention to this milestone. In writing it, I just looked inward for the right words to say and I honestly expressed my feelings. I was happy with the result and wanted to share it with you as a simple, genuine example of expressing appreciation to a long time contributor.