I was a member of staff on the SitePoint Forums for many years (from July 15, 2001 through September 30, 2008, to be exact) and I now co-host the SitePoint Podcast. SitePoint is one of the largest web development communities in the world and I am proud of my affiliation with it.
SitePoint is an example I cite with some regularity as they are an interesting blueprint to follow when it comes to leveraging the power of community for bigger things and revenue opportunities beyond just the normal stuff.
One of the more impressive things that they have done is (to oversimplify it) taken two individual forums on their community and spun them off into two independent, viable businesses, allowing them to generate more revenue and create more jobs.
Where it Starts
I was going to say it started with the SitePoint Marketplace (see the next section). But, no. Where it really starts is with the community and the audience. SitePoint grew their community and audience to impressive numbers.
As such, their audience, consisting of web developers, web designers, programmers, online marketers and business people of all stripes, was one that people wanted to reach. They wanted to reach them to sell them something, to find new clients or to get them to use their service. SitePoint already sold an array of display advertising on their site.
But, given the popularity of SitePoint, standard advertisements that would ensure constant exposure, over a measurable period of time, were simply not something that most people could afford. On top of that, they made little to no sense for someone who was selling a website or domain name or looking to hire a new employee.
Sometimes, people would post these things in the forums and, of course, that violated the guidelines as advertising (spam) and was removed.
With all of these factors in mind, a need was identified and they sought to fill it.
SitePoint Marketplace
The answer was the SitePoint Marketplace. What you see when you visit that link is much different than what it began as, which was basically just a new set of forums in a new category on the SitePoint Forums. And each ad posted in it was a forum thread.
It was launched to meet a demand: businesses and individuals wanted to reach the people within the community and advertise something to them. Posted in the regular forums, this was spam. But, in a special classified ads-type section, it was perfectly acceptable. They charged enough to make it worthwhile, but not so much to make it unaffordable, ensuring that it was a solid value. New threads ranged in the vicinity of $5 through $40 or so.
They had sections for selling your website, domain name, advertising on your site and more and forums for things like design contests and web hosting deals. It was a very simple, but extremely effective way of satisfying demand and, at the same time, increasing revenue without adding any additional display ads to the site.
Eventually, it would also lower the overall moderation burden placed on the forums staff, allowing people who wanted to advertise a legitimate means of doing so.
However, two particular forums were more popular than the others. So popular, in fact, that they would spin-off into a pair of brand new start-up businesses.
99designs and Flippa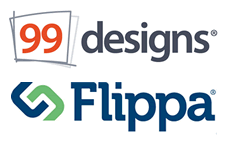 Those two forums were dedicated to design contests and website sales. On January 14, 2008, what was once the design contests forum became 99designs, now the leader in crowdsourced graphic design.
After a wildly successful launch, they made the same move again; this time, with the website sales forum. On June 21, 2009, Flippa was launched and quickly became one of the leading destinations to sell your website.
While there were some iterations in between individual forum and dedicated website, that was the start and the destination.
99designs offers listings at $39 a pop plus 15% of the prize offered (with minimum, required prizes ranging in the hundreds). Meanwhile, a listing on Flippa will cost you $19 plus 5% of a winning auction price (up to $498). On top of that, they both offer an array of upgrades that are individually priced, allowing you to get more exposure or further control of your listing.
Meanwhile, minus these two sections, the SitePoint Marketplace exists to this day filling the other gaps with a similar model.
If you count each listing and assume the very minimum fee is being paid, you can see the potential there.
A Duplicatable Model
The best thing about this model? It can work for anyone, if they have an audience that people want to reach. Don't think about selling a few ads to people for a high price, think of selling a lot of ads at a more affordable price. You do not need to be as big as SitePoint to do this.
Consider KarateForums.com, a community that I run. It has a good sized, focused audience of martial artists, instructors, school owners and those looking to get into the martial arts. Maybe it doesn't have the same potential that SitePoint did, but there are plenty of people looking to advertise their school, sell equipment, books and other things.
Think of these as targeted, quality classified advertisements – the micropayments of the advertising world. They can really add up. And perhaps even become an entirely new company.