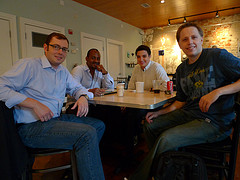 photo credit:
Brandon Eley
I was sitting at dinner tonight with Chris Moody and Damond Nollan at Ruby Tuesday in Durham, North Carolina. It was a late dinner, following a panel at North Carolina State University that I was featured on, alongside Chris, Damond, Ginny Skalski and Dan London.
We had a great conversation covering social media, professional speaking, higher education, career advancement, the importance of family and who knows how many other things. It was great to chat with them.
This is community and it is one of the reasons I love to speak at events. It may not be a huge community, it may not be forums, it may just be a conversation, but it is community and I love building my face to face community with good, strong, reliable people – one by one.