Posted by Patrick on October 25th, 2010 in
Research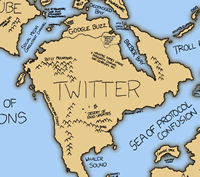 Back in 2007, popular webcomic xkcd published a map of online communities. At the time, MySpace reigned supreme. YouTube, Wikipedia and Yahoo! and Windows Live (the last two, combined, were dubbed "The Icy North") were the next largest. Facebook, still growing and only a year or so open to the general public, held a nice piece of land, but not larger than Xanga, Orkut, Friendster, Classmates.com and more.
Earlier this month, they posted an update and, as one might expect, there were some major land shifts. The first thing that catches my eye is Facebook, which is by far the biggest player on the map. MySpace has now been relegated to a portion of land much, much smaller than Farmville and Happy Farm and not all that much larger than hi5, Orkut and LinkedIn.
It is a really cool piece of work. I really commend xkcd on spending the time to collect the data and put together such a cool piece of work. Check out both of the maps below (and click on them to go to the comic page and view an even larger version).
2007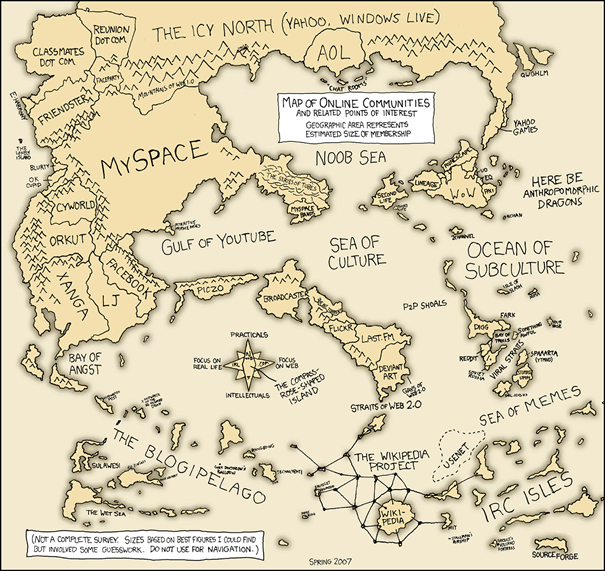 2010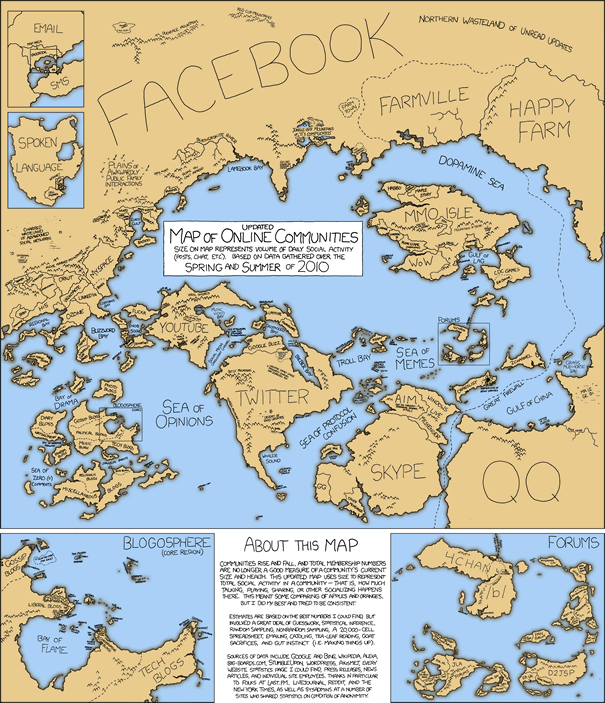 So, What About Forums?
I paid particular attention to how forums were represented. In 2007, there were some large forums recognized and there were, of course, plenty of services that were at least partially powered, in a very noticeable way, by forums or forum-like functionality.
In 2010, forums receive their own section of the map. You arrive in that part of the illustration by taking a "ferry from Gaia." Gaia Online is widely recognized as the largest online forum in the world by number of contributions. Sadly, in my opinion (more on that in a forthcoming post), the largest plot of land in the forums section goes to 4chan. But, we also have to keep in mind that this is based on activity alone.
There are more palatable examples of forums that are included in the lineup, such as Cruise Critic and BabyandBump.
I have written before that forums are everywhere and are here to stay, so we shouldn't focus on the tools and, instead, should focus on our objectives. And I think that is very true here.
Forums are everywhere on this map. They don't have to be labeled as forums or put into the forums box to be forums. When I look at some of the biggest names on this list, just as in 2007, I see that they are at least powered by forums or forum-like functionality.
This is how I see it: I love that the map has grown and become more detailed. More online communities, more tools, more spins, more customization, more options. These are all good things and the map helps to articulate this fact in a fun and visual way.
Thank you to Ryan Boyles for putting this on my radar.