Lanyrd launched in September. I love Lanyrd. What is Lanyrd? It's "the social conference directory." That's probably not enough. Lanyrd aims to help you "find great conferences to attend," "to discover what's hot while it's on" and to "catch up on anything you missed."
It's built on top of Twitter (in so much as you need to share your Twitter details to unlock it's true power) and it shows you what conferences the people you follow are attending, speaking at or talking about. As you may know, I speak a bit. Here's my profile on Lanyrd.
Why do I love Lanyrd? It is simply and well executed. They have done a great job developing a platform that is informative and fun for conference organizers, speakers and attendees to participate in. It just works. It serves as a great reminder of events you were at and, for speakers, I believe their profile features are just wonderful.
I love looking at the website. It's beautiful, aesthetically speaking. They have been launching great features that make sense, such as coverage and the ability to find conferences to speak at.
When I visit Lanyrd, I am not overwhelmed with complexity. Yet the website presents me with the options that I want. That isn't the easiest combination to put together, but they've done it. There are two important points I want to make about Lanyrd and the idea of community.
Lanyrd Doesn't Want All of Your Time
I think sometimes we forget that there is nothing wrong with creating websites that people can go weeks without using. Lanyrd isn't a site that wants to own you. They are providing a specific service that you will want to use at a specific time. Maybe some features you will want to monitor or subscribe to (like the calls for speakers or the calendar). But, it's not a site you are going to login to every single day.
Niche is good, niche is powerful and it is important. Being great at a specific thing is one of the keys to success, in my eyes. Facebook is a wonderful, well constructed website, that works excruciating well (and is great at specific things, too). But, the idea of massive appeal doesn't have to be a part of every project, nor should it. Have focus, have an audience and win at culture.
There is something to be said for focus and a narrow pursuit of excellence.
Comments Aren't Needed for Community
Let's go from page to page on the Lanyrd website.
Homepage: no comment or status update box.
My profile: no comment or status update box.
An individual conference: no comment box. You can edit details, add speakers, add or edit sessions, mark that you are attending, track the conference, say you are speaking, as well as other things, but there is no space for random comments or ratings. Just for adding conference critical data.
An individual session: no comment box. You can add coverage and session critical data, but that is it.
The only place that I can find, that you can leave comments, is on their blog.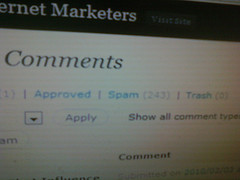 photo
credit: GoTRISI
I am certain, absolutely certain, that a group of people have visited Lanyrd, looked at a profile, conference or session and said to themselves, "why can't I comment on this? Why can't I add my thoughts?"
That is the overwhelming trend online. We have to comment on everything. Every newspaper allows comments on their articles. If you don't allow comments on your blog, some tell you that you are not blogging. If you don't allow people to comment on your Facebook page, you're doing it wrong. And so on.
No! We need to push back on this, as professionals in this space. Everything doesn't need your comment. There are plenty of places to comment on the web. Not allowing comments, and instead just asking them to enter mission critical data, is a stroke of brilliance by Lanyrd. Comments would simply add an unneeded distraction, burden and responsibility for the team behind Lanyrd, which is a married couple, Simon Willison (whose name I know from my years at SitePoint) and Natalie Downe. Lanyrd isn't their full time thing.
No comments. And yet, if you ask me, I say that Lanyrd is building a strong, focused community. You don't need to have people on your site every day to have community. You don't need to have comments on every page to have community. You build community by doing something good. Community isn't fixed in any particular medium.
I am not affiliated with Lanyrd. I have spent hours on the site, filling out my profile  and looking around, and love what they are doing. Though, if I was an angel investor, I'd be glad to throw some money into it and, if I was on their advisory board (which I'm not) and they asked me if they should add more commenting abilities, I would tell them no. Not no, never, but no, not right now. You have a strong product. Don't dilute it and waste resources on comments.
You don't need comments to have community.