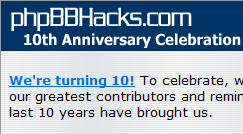 phpBBHacks.com, the largest unofficial resource for the phpBB forum software and a website and community that I have managed since day one, will turn 10 years old on April 6.
This is an incredible moment, one that seems absolutely amazing and insane, when considering the passage of time and one that is also emotional and personal to me.
This is a special site and a special community and one that has helped so many people. I could never estimate, but we're talking hundreds of thousands of people, perhaps even getting over the seven figure mark. I faced tremendous challenges in growing the community, obstacles that the average community will not face, and emerged with the help of others to reach a place I am proud of.
I an extremely proud of what this community has accomplished over the last 10 years and what it has meant. So proud.
When I realized that the big 10 year anniversary was coming up, I started brainstorming for how we could celebrate our community. I brought in a few former staff members – Jared W. Smith, Jeremy Rogers and Brandon Levan (thanks guys) – and set to planning it out.
At the forefront of the completed plan was an aggressive (for one person) series of articles dedicated to some of the biggest and most influential contributors in the history of the community. I wanted to talk with them, reconnect with them if they had been away and ask them to share themselves with the community and, further, find out what the milestone meant to them.
It launched on March 28, kicking off the 10 days of celebration of the 10th anniversary of the launch of phpBBHacks.com. There is a special section of the website dedicated to this content.
As I write, we have launched 10 articles already in 3 days, including an amazing "What phpBBHacks.com Means to Me" piece from Brandon, a former staff member profile with Marc Philpott and eight contributor (author) profiles that are part of what we're calling the Top 25 Authors of the phpBBHacks.com Era (2001-2011). If you read the pieces, you get a sense of what the community means to them. The interview (yes, I'm conducting interviews with a majority of the 25, plus others) with Pierre Roge was particularly touching to me.
Let me talk about that for a minute. The top 25 authors in the history of phpBBHacks.com. In 10 years, we've had nearly 1,500 authors that have released over 4,300 individual creations that have been downloaded somewhere north of 12,000,000 (million) times. To come up with the top 25, I poured over an incredible amount of data for much of two days in order to finally come up with a list I was happy with. This is a serious, meaningful thing. All authors also were sent a graphic commemorating the event which they can display wherever they want.
As mentioned, I'm also receiving original content from past contributors, interviewing some former staff members and have another couple of features, authored by myself, planned.
There is a special section of our forums where people are discussing the articles and posting kind words of appreciation for some of the people highlighted.
The celebration is featured throughout our website and will culminate in a three hour livestream party, of sorts, where we will have special guests and reminisce over the last 10 years. It'll be hosted by me and Jared.
This project alone is sucking up a very good portion of my time over a two week period. But, it is so worth it. You only turn 10 once and the people I have contacted have been so responsive to the features and appreciative of them. Appreciation is one of the most powerful builders of community and one thing that we do very well at phpBBHacks.com is appreciate people.
It's crazy how time flies.