Posted by Patrick on April 21st, 2011 in
Thinking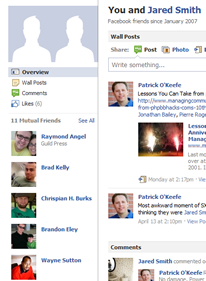 You haven't heard of WindowsLaunchpad.com, have you?
No, not the site that is on that domain name now. The Microsoft Windows enthusiast site that existed on it back in the early to mid-2000s.
You'll have to forgive me, as I don't know when it launched. I just know that it recently turned 10. I wasn't an active member, though I did make some posts. So, why am I mentioning it?
Because WindowsLaunchpad.com is a memory and because it means something to me.
To delve into why is to get into community at it's true essence, which is the connections we make with other people.
I am posting this at 7:11 PM ET (6:11 PM CT) on April 21, 2011. It is exactly 10 years, to the minute, that I registered on WindowsLaunchpad.com. I still have the welcome email.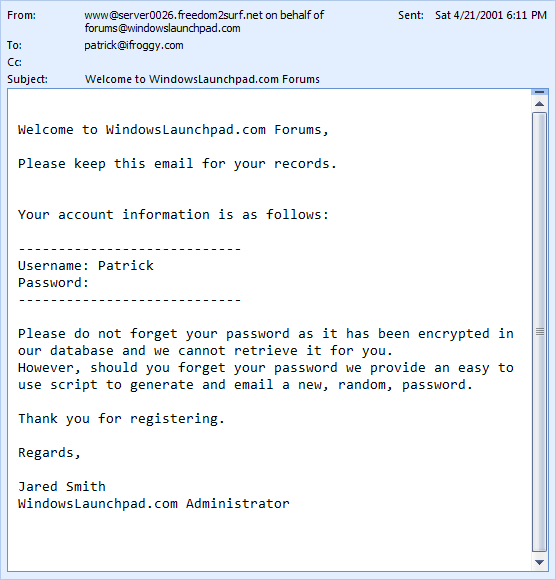 Jared W. Smith, of the above mentioned email message, is one of my best friends and how I came to know him so well was over the internet. By the time I met him in person for the first time – at ConvergeSouth 2008 – he was already my man. That just cemented it further.
When you think of your friends, you can't help but think back and when I think about Jared, for whatever reason, one of the things I think of is WindowsLaunchpad.com. It was a wonderful phpBB 1 integration, very aesthetically pleasing. Does it rank among the biggest accomplishments of his life? No, not really. He's gone on to do many great things, like write a book, become the Webmaster of one of the most well read tech publications in the world and, heck, even get engaged.
But, when you think of your friends, your real good friends, you think of the past and where that friendship comes from. It is a fun and interesting time to look back on and that's why WindowsLaunchpad.com has a place in my heart.
When I think of my best friends, for the most part, I find that they became my best friends before I met them in person and then meeting them in person just confirmed what I knew already. That is online community, to me, in a very pure and real form.
What is also fun is seeing how relationships emerge from your best friends. For example, some of Jared's friends are now my friends – namely Brad Kelly, who was an administrator at WindowsLaunchpad.com and Ray Angel, who Jared, Brad and I believe may have been a member (sorry Ray, long time ago). James Fintel, a friend of Ray's who we have all come to know to varying degrees (because the only way you meet James is through Ray) is another name that pops in there.
When I view Jared's profile on Facebook, it's fun to see the mutual friends feature tell the story of people that we met through each other, in one way or another. On Jared's end, Brad and Ray – on my end, Brandon Eley and Chrispian Burks. On both ends, community.
Happy 10th anniversary, WindowsLaunchpad.com. Thank you for what you stand for, to me.
P.S. Jared, Brad, Ray, et al. – we need to do an in-person WindowsLaunchpad.com meet-up!