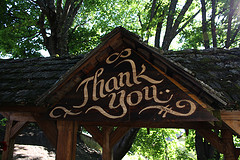 photo
credit:
proudcanadianeh
Happy Thanksgiving to all who celebrate it.
In honor of the day, I thought that I would take a moment to talk about a few things that I am thankful for right now, as they pertain to managing an online community.
I have a lot to be thankful for, both professionally and personally and this is not meant to be an all-inclusive list. Just some things that popped into my head as I pondered the question, "what, related to what I do with online communities, am I thankful for right now?"
Online Community Management as a Maturing Industry
When I started, the Community Manager role didn't really exist. 99% of the platforms, tools and software that are now available – were not available.
But, over the last 11 plus years, many things have changed. The idea of building community online and of companies being human is hot. And it's really cool.
I'm thankful that this is a desirable space that is growing, that we have people moving beyond Community Manager to more executive and VP level roles. This is an important thing and it deserves attention. We're getting there.
Ethical Community Managers
As much as I love the space, not everyone within it is ethical. That's just the way it works – there are unethical people in all professions.
I'm thankful for those among us who believe in hard work and not black hat or grey hat shortcuts. Spamming, astroturfing and dubious forms of content seeding have no place in this industry and we must continue to root it out and have the courage to call out these practices and those who engage in them.
A Variety of Available Platforms
I love that the forum software space isn't overwhelmingly dominated by one name. While vBulletin and phpBB remain paid and free leaders based upon usage, as I see it, there are a number of great options and we have choice.
Choice drives people to work and it offers us a selection and a flexibility to choose the platform that works best for us. This can't be said for all spaces. But, it can be said for us. That's wonderful.
Professionals Who See the Whole Online Community and Social Media Landscape
Online community is far more than just Facebook and Twitter (and Google+). Yet, that is how a lot of people see it and how a lot of people fresh out of school, in their first community manager roles, see it.
This viewpoint is not a wide one and it misses great, great opportunity. We have to continue to educate about the wealth of platforms that constitute online community and the amount of value that is out there, value that may be even greater than whatever you can get out of the current buzz platforms, depending on your unique situation.
I am thankful for those who see this rich landscape, not as one platform against another in competition, but as a wealth of platform options available to you, depending on what your needs are.
Thank you to everyone who has contributed to the above. Thank you to my current and former staff members. Thank you to everyone who has supported me and helped me to get to where I am today. And thank you for reading.