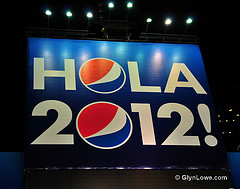 photo
credit:
Glyn Lowe Photos
Since this will be my last post of 2011, here at ManagingCommunities.com, I decided that we would take a look back at the 10 most read articles that were published here in the last 12 months.
It's always fun when something that I write resonates so well that people pass it on and share it with their coworkers and friends. Thank you to everyone who helped spread the word to make these articles popular.
What is the Best Forum Software? The Definitive Answer
The answer holds as true today as it did back at the start of March.
Only a Small Percentage of Your Customers Care Enough to Offer Feedback and You Should Listen
Of all of the things you can do to build your sales, caring is a very affordable option.
Study Details Use and Success Rate of Social Media Tools by Inc. 500 Companies
Dr. Nora Ganim Barnes annual study shows us what social media tools companies are actually using. Hopefully, we'll get an update in early 2012.
Usernames vs. Real Names on Your Community: Pros and Cons
There is no one right choice, so it's important to consider the pros and cons before you decide what is best for your community.
Online Community Management Lessons from Dr. Dre's "I Need a Doctor" featuring Eminem and Skylar Grey
Dr. Dre's hit single held a lot of deeper meaning. Possibly my favorite post on this list.
The Confusion of the Community Manager Job Title
The Community Manager title is being thrown at any number of responsibilities, to the point where it has become meaningless when determining what someone actually does.
We'll Be Cool as Long as You Just Play Your Part
Music is a source of inspiration for me. Wale's "Play Your Part," featuring Rick Ross, Meek Mill and D.A. Wallach, was the song of choice for this post.
Has Community Manager Become an Entry Level Position?
It has – at least for some – given the level of pay that is being offered to many community managers. But, there is room for the industry to grow and mature.
Auto Forum Poster: "Siphon Millions of Users to Your Forum from Google Today!" (Get Ready to Cringe and Laugh)
Spam can be hilarious.
Community Building Isn't About Influencers
Inspired by the constant chatter about "influencers," I wanted to provide some perspective on the dangers of perusing only the people you deem to be influencers.
I am really excited for what 2012 will bring and look forward to the opportunity to share it with you. Thank you for reading.