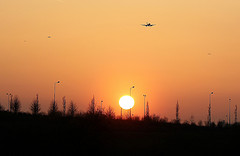 photo
credit: Global_5000
Update: This was an April Fools' Day joke.
I am deeply saddened to announce that online forums have died, as confirmed by areforumsdead.com. They passed away quietly in their sleep last night at an unknown age.
While it may be unclear when online forums were born, from the moment that people were able to discuss something with another human over the internet, it wasn't long before they were having threaded discussions.
Online forums and the format of threaded discussion served as a cornerstone of the social internet and what would one day, many years later, come to be known as social media.
Online forums are survived by most every meaningful social platform on the web, which have forum like functionality as a part of their backbone. Despite the growing popularity of threaded discussion, somehow, online forums have now been pronounced dead. It is as if the desire to want to appear new has trumped the fact that, really, we've been here before. And yet, it has happened and online forums are now dead.
The memorial service for online forums will be held online today, April 1, at 7:00 PM GMT/UTC. All are invited to logon to their favorite social platform to mourn the death of something they likely use everyday, knowingly or otherwise. If applicable, you can tag your thoughts with #RIPForums. Funeral arrangements have not yet been announced.
Rest in peace, online forums. I will miss you.