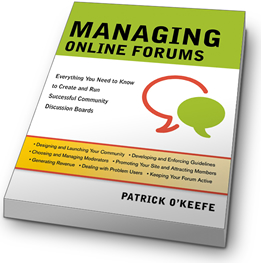 Saturday will mark four years since the official publication date of my book, "Managing Online Forums."
I wrote the other day that one of the things I love most, as someone who has been managing online communities for 12 years and regularly writes about those experiences, is when people utilize my strategies in a thoughtful way that leads to success. For me, the book is the greatest example of this.
The way in which the book has been received has been humbling. I've been very fortunate to receive praise from people who are new to this space and from people who have been doing it longer than I have. When you put as much time into a project as I put into this book, you know you are doing the work to make it the best it can be. But, what you don't know is if that will be good enough. So, to have received praise from so many people and so many people that I respect, it is something that I truly appreciate.
Thousands of copies of the book are out in the world. Across all Amazon sites, internationally, it has been reviewed 68 times. 61 five star reviews, 5 four star reviews and 2 three star reviews. That's an average of 4.86 (or five stars). It's ridiculous to me and I'm so grateful.
Four years in, a lot of books would be hugely outdated. Thankfully, that is not yet the case with this one. I purposefully avoided specific technology in the book and focused mostly on strategy and that is what has allowed the book to be nearly as up to date right now as it was the day that it was released. This year, the book has already been reviewed 5 times on Amazon.com. That is more than double the number of reviews in all of 2011. Furthermore, in January, the book had its best BookScan week since Amazon opened up the BookScan sales data to authors at the end of 2010.
I'd like to say thank you to anyone who has picked up a copy of the book, recommended it to someone else or utilized some of the strategies that I discussed within. Thank you to everyone who has taken the time to read and review the book. The support that I've felt has been amazing and I appreciate it. Thank you to everyone who was involved with the book, including Neil Salkind (my agent), Jacquie Flynn, Erika Spelman, all of the people at AMACOM, Chrispian Burks, Ted Sindzinski and many more.
From a kind word to a bit of press, if you supported the book the book in any way, I appreciate you.