Posted by Patrick on July 23rd, 2012 in
Research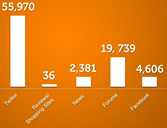 Burson-Marsteller and Visible have released their third annual Global Social Media Check-Up report, detailing how the Fortune Global 100 participates on the social web.
Much of it is focused on how many accounts they have on Twitter, Facebook, Google+, YouTube and Pinterest, how many people follow them through those accounts and how active they are.
One of the metrics that I found most interesting is their reporting of the average number of mentions per Fortune 100 company on various segments of the social web. These segments were video/photo sites, Twitter, reviews/shopping sites, news, forums, Facebook and blogs. The data was collected in February of this year.
Here is how these segments ranked:
1. Twitter, 55,970
2. Forums, 19,739
3. Blogs, 19,610
4. Facebook, 4,606
5. News, 2,381
6. Video/Photo Sites: 173
7. Reviews/Shopping Sites: 36
Now, it is important to take research like this with a grain of salt because two different researchers can analyze data on the same subject and come to two different conclusions. But, in the proper context, it is interesting to ponder these numbers.
Again, these are just brand mentions of the Fortune 100. Actual mentions of the company. In May, Jason Falls and Social Media Explorer found that 90% of trackable online conversations around banking and bank products occurred in forums. That was for terms related to that industry, not brand mentions specifically. The keyword, with these studies, is trackable. There are private contributions made on most of these channels, such as private Twitter accounts, Facebook profiles and forums. But, one would tend to think that, in cases like these, the Facebook number is harmed the most by privacy.
Though forums ranked second, the report does not delve any deeper into them beyond that mention. That said, it is good for numbers like this to be reported, to help people develop a balanced understand of what the social web is comprised of. View the full report below.
Via MarketingProfs.