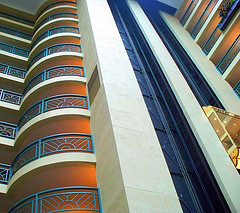 photo
credit:
psyberartist
This is a guest post from my friend Scott Fox, who runs ClickMillioniares.com, a lifestyle business community. He is the author of "Click Millionaires: Work Less, Live More with an Internet Business You Love." Scott has developed successful premium membership programs for others, and for himself.
Online forums are great. They can provide friendly gathering places for people worldwide to meet and share information, build relationships, and have fun together.
Unfortunately, many forum owners find themselves challenged by the amount of time it takes to moderate a community to keep it friendly and welcoming for new members. Since most online forums are supported primarily by advertising, a question I often get is "How can I make money by charging for memberships, too?"
To see if your audience is ready for this type of feature, I would start by offering one time purchases to them. These might include $10 to attend a special webcast, $5 to get a copy of a new special report you have written, $20 for a new community branded t-shirt or coffee mug, or even a pledge drive where you ask for donations from the community to support further development.
The reactions you get from your forum members will give you an idea of how receptive they are to paying for more community related services from you. If those types of offerings are well received, then you likely have potential to start generating revenue by selling memberships.
Start With Premium Membership as an "Upgrade"
If your forum has been successful on an advertising-supported basis, I would not recommend trying to suddenly change course and charge your members for the service. This is certain to anger people who have been long-time contributors.
Think instead about adding a "premium membership" tier that allows access to additional, exclusive content, services, tools, or activities in addition to your forum's typical feature set.
The key is to avoid cannibalizing your current free membership benefits. Instead you want to add enhanced, additional benefits for the premium members that extend the experience they've already enjoyed as free members.
Benefits You Can Offer
To give you an idea of the type of features that you can offer, here are some examples of "premium" membership services that have worked well for me as upgrades:
At BillOReilly.com, I helped the Fox News anchor develop a premium membership service that we built around exclusive "access" to Bill. Members pay $4.95/month for exclusive content and activities such as weekly webcasts where he answers questions from premium members of the forum, archives of Bill's past work, exclusive video clips, extra stories from his "The O'Reilly Factor" TV show, discounts in his online store, members-only forums, and more.
My wife runs SweaterBabe.com and hosts a private Knitting Club, too. Her members pay $7.99/month to receive her latest knitting patterns for free each month, participate in giveaways, talk with other members, receive discounts in her PDF knitting pattern store, and ask whatever knitting questions they would like.
ClickMillionaires.com, which is my community, offers a $39/month "MasterMinds" program in addition to the free forum for my book readers. The MasterMinds members are offered personalized entrepreneurship coaching, website design reviews, a private library of startup advice materials, free training classes, and private video webcasts with me in a private forum separate from the free public forum.
Many communities also offer paid benefits that increase the features or functionality of the forum software. For example, premium members might be allowed a longer signature, more private message space, a distinguishing badge, the ability to set their own user title, etc.
Hopefully these examples give you some ideas about premium member activities that can be used to help your community charge for its services, too.
Pricing
Once you have developed your premium membership features, and gained confidence that your audience will be interested, you are left with the difficult question of pricing. How much can you charge?
Most premium membership services I have seen charge $5-$99 for a one-time upgrade, and anywhere from $4.95-$100+/monthly depending on how unique and valuable their content is to the community members.
In most cases, I recommend starting with a really good deal to entice your most loyal community members into upgrading to the new service. You might even give away a certain number of memberships to those folks to get things rolling. It can be more than worth it to have your best evangelists as free premium members if they help you spread the word and convince other members to pay.
Next, I would start by offering a low price that is appropriate to the budgets and expectations of your audience. For example, if your forum is full of cash-starved students, a one-time membership upgrade of only $10 might be ambitious. But, if you are producing lots of valuable content for a profitable B2B audience, you could likely charge hundreds of dollars at least once, and maybe even monthly. Especially if your new premium services help your members make more money themselves, you have a good justification for charging more.
As your new premium services gain popularity you can gradually increase (or lower) the price based on feedback from your audience, too.
I hope this overview of premium membership strategies helps you see ways that you could make more money from your online forum, discussion board, or social network. Relationships are one of the few assets that can't be copied easily, so if you are running a successful forum today, you are ahead of the curve compared to most e-commerce businesses that are facing ever increasing competition and piracy challenges.
I recommend staying ahead of the curve by growing your online community through additional revenue streams like these. Working with your members to develop new, paid services that they like can be a win-win situation: It puts more money in your pocket, and helps you support the further growth of the service both you and your members love.

Scott Fox is the Host of the popular lifestyle entrepreneur coaching community ClickMillionaires.com. He is a serial internet startup executive who found success online building multi-million dollar websites for startups, celebrities, and a Fortune 500 corporation, too. Now a blogger, podcaster, and best-selling author of three books, including the new "Click Millionaires: Work Less, Live More with an Internet Lifestyle Business You Love," you can visit his ClickMillionaires.com Forum for free email newsletters, and to join the friendly lifestyle business coaching forum there for free.