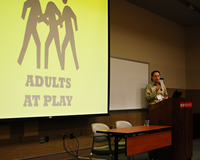 photo credit:
Brandon Eley
Following my engagements earlier this year for CNN, Dell, South by Southwest Interactive and Virtual Community Summit, I have made a conscious effort not to pursue any speaking opportunities, so that I could be head down, getting some work done.
Specifically, I released the "Monetizing Online Forums" book and launched two video efforts: Soda Tasting and Patrick and Sean. But, I have a couple of conferences coming up that I wanted to tell you about.
On November 17, I will be speaking at indieconf in Raleigh, North Carolina. It's a one day event focused on freelancers and independent web professionals. The conference is in its third year and is put on by Michael Kimsal. I have spoken at the first two and I can say that, for the $99 ticket price, Michael delivers a ton of value. I will be presenting "An Introduction to Monetizing Your Website."
We'll be talking about the myriad of options available if you are looking to generate revenue from your website and how you can get started using them. We'll touch on vendors and discuss how you can move past the starting gate.
For the second consecutive year, I will also be speaking remotely (not in person) at Virtual Community Summit. Organized by Rebecca Newton and Oxana Morozowska, the conference will be held in London on February 7. It's a great event for online community professionals.
I like the people behind both events, as they care and put in a solid effort to create a great experience for attendees. If you'll be at either one, please let me know in the comments. Thanks.