Posted by Patrick on November 15th, 2012 in
Research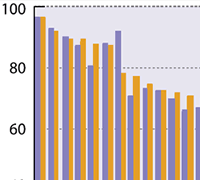 ComBlu has released the 2012 iteration of their "The State of Online Branded Communities" report. You can download it for free via their website. It includes data from 219 communities owned by 92 brands in 15 industries.
The report takes a good look at the tools used and features deployed in these communities, in addition to the success levels and reason for being. It breaks this data into various segments, such as by industry and by those who scored the highest on their scale.
I appreciate that they made the report available for free because it contains a lot of interesting data that is worth pondering and interpreting in your own way. There were a few areas that jumped out at me as I was reading through it. In this chart, you can view the overall adoption of different types of tools or features, or what ComBlu calls "best practices," across the communities surveyed.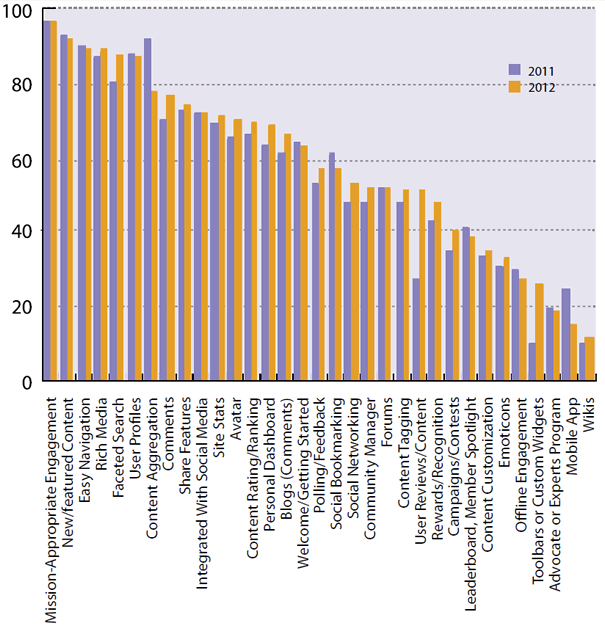 It's interesting that the idea of a community manager is utilized in only 56% of the communities (the same percentage that utilize forums – perhaps not a coincidence). The biggest gainers, year over year, were user reviews/content and toolbars or custom widgets.
In looking at these numbers, it is important to consider what was actually counted as a community. For example, one company is Walmart, for which they count four communities. Walmart Community, Walmart Fitness (not sure what the link would be to this), Walmart Moms and Walmart.com. So, one of them, I couldn't find. Walmart Moms appears to be part of Walmart.com, which is a retail focused site. Should it be counted as a community focused site?
If you flip over to Merck, they don't count merck.com as a community, even though it has links to social media profiles and "latest news," just like Walmart Community has. But, it does count both JourneyForControl.com and Steps to Balance, two similar sites that appear to be more for informational purposes than for any community purpose, as "communities." Does Steps to Balance, a site seemingly without any community features where the primary interaction is email updates on type 2 diabetes support and treatment, really need a community manager? Should it be counted?
I could be missing something, but part of me wishes that there was possibly a higher bar for what constituted a community site. If you want to count the company homepage as a community and count their presence on third party social platforms, I can see that. But to do repeat counts of informational sites or sub-sections of an already counted site would seem to dilute the numbers.
In any case, I don't want to seem overly critical. I think that the report is great food for thought. They may a lot of interesting observations. Perhaps none more so than this one:
Overall, the biggest miss that we observed this year is the lack of comprehensive community and social assimilation. Many brands continue to define Facebook as their community and point to the number of fans or likes as an indicator of community success. Yet countless studies have concluded that "likes" are not equivalent to "relationships with customers." In reality, a social-only strategy is an incomplete line of attack, as is a "branded community–only" approach. … The Facebook vs. community debate is one we have been tracking over the past few years. At ComBlu, we do not believe it is an either-or proposition and are disturbed to see many brands focus more and more on Facebook and other social channels while minimizing their investment in true community.