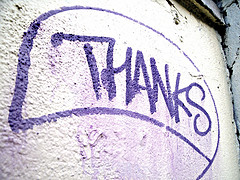 photo
credit:
briannaguest
As of yesterday, ManagingCommunities.com is 5 years old.
Over the last 5 years, the profession of online community management has grown in popularity in a very meaningful way. It certainly wasn't as trendy 5 years ago when I started this blog, 10 years ago, when I started writing "Managing Online Forums,"  or 13 years ago when I started managing my own communities.
It's been fun to watch and I'm grateful that my writing has been well received and that I have had the opportunity to help as many people as I have.
Thank you to everyone who has supported my work in community management, both here and elsewhere. Whether it is sharing my work, buying a book, offering me a kind word in private or in public, it always means something to me and when I see it, I do my best to thank people directly so that I don't have to try to remember to do it later or include a list of names in a post like this. If you have supported my work and I haven't thanked you, please know that I am thankful.
How can I help you in 2013? Please feel free to let me know. Thanks.
Patrick