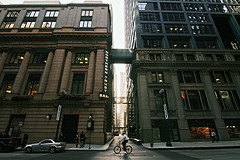 photo
credit:
vonderauvisuals
I recently asked you for challenges that you are facing on your community that I could help with. TommyT came up with a good one.
His community is growing and there is an influx of "new regulars." For the first time since the community launched, these newer members are larger in number than the members who helped get it off the ground. They knew Tommy prior to launching this community and have a strong rapport with him. Unfortunately, there is a growing culture clash between these two groups.
The older members engage in more lighthearted, tongue in cheek banter, including taking good natured jabs at one another. However, the newer members don't seem to appreciate the humor of the more established members and sometimes will take offense at something that was said. They appreciate the strict policies that Tommy has put in place and want him to be stricter on jokes that they feel are disrespectful or inappropriate.
Read More