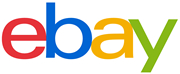 Recently, I was reviewing the vendors that I work with to monetize KarateForums.com. I was looking for something that would better target martial artists and I decided to increase my usage of eBay Partner Network.
This is eBay's affiliate program, which pays on a cost-per-click basis. How much you earn per click is based on their Quality Click Pricing, which attempts to evaluate the quality of the traffic that you send them. They say that, on average, publishers earn between $0.06 and $0.21 per click, but those sending "high quality, targeted traffic" can earn more than $0.40 per click. So it isn't like typical affiliate programs where you just earn a percentage of revenue generated. This can be confusing and, perhaps, frustrating. Nonetheless, for niche communities, the eBay Partner Network can be a good program.
You can certainly use it if you have a more generic, general chat type community, but where it really shines is when you are focused on a particular subject matter. That is when one of eBay's greatest strengths comes to bear: the depth of items that they have available, covering seemingly any possible interest.
With KarateForums.com, I want something targeted at martial artists. Using their widget builder, I can build a creative (from standard IAB sizes or a custom size) based on whatever keywords I want. In this case, we'll enter Karate, TKD (short for Tae Kwon Do, a martial art) and MMA (mixed martial arts). And here's what we get:

But let's say that you run a community for Coca-Cola enthusiasts.

Or old school gamers.

In some cases, the more specific it is, the better eBay can be because when people want to sell specific things, that's where they often go.
Even if you don't want to give eBay premium placement on your website, it makes for great backfill when your ad networks run out of paying ads or run out of ads that are paying well. It's targeted and there is a fair chance it'll interest your visitors more than a generic low paying ad (or a blank space). And they continually update with new listings.
eBay can also be powerful for publishers outside of the U.S. as they offer affiliate programs for their sites targeted at Australia, Austria, Belgium, Canada, France, Germany, Ireland, Italy, the Netherlands, Spain, Switzerland and the United Kingdom.
If you are a programmer or have a great idea and hire one, you can also tap into their product data through an API and create something unique to your community, as long as it is in line with their terms of use.
If you're a niche community that has trouble finding targeted ads, the eBay Partner Program is definitely worth a look.