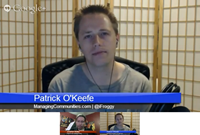 When phpBBHacks.com turned 10, back in April of 2011, I hosted a live streaming celebration for 3 hours. I was joined by a co-host, a friend and former staff member of the site (Jared W. Smith), and together we spoke to a slate of guests that I lined up. They were all people who had contributed a lot to the community.
The very next month, I did the same thing when KarateForums.com turned 10. Except that instead of one guest host, I had 3 of them and they each guest hosted for one hour.
I ran these events off of Tinychat, where I was on video and I had a friend of mine (Jonathan Bailey) patch the others in over the phone (since, for the most part, they weren't comfortable joining me on Tinychat or being on video). On the phpBBHacks.com event, my guest host was on video. For the KarateForums.com event, none of my guest hosts were.
Alongside the video, Tinychat also provides a chat room, which we used. We interacted with the listeners, answered questions, etc. The chat room was pretty much all people from the community.
It was a big success. The live steaming went well and there were many great moments with guests. We spent a lot of time talking about the community and what it meant to them. The members who attended and listened loved it and there was a lot of praise given. It was great.
I think that it could be great for you and your community. Beyond just planting the seed, I wanted to share some tips on how I was able to accomplish it.
What Technology?
You should decide on the audio/visual experience. Video is great, even if you are the only one that is able to use it. We used Tinychat because it was what we were comfortable with at the time. I co-hosted a podcast with a friend of mine using Tinychat and he had volunteered to help me by patching in phone calls and recording the audio for the entire show. This was before Google+ Hangouts (actually, before Google+ at all). If I were doing it today, I'd probably use Google+ Hangouts On Air, which allow you to live stream publicly. I might embed it on a webpage with a chat room like tlk.io, as I like it better than the YouTube chat room/comments section that Hangouts On Air provide.
Just because you use Google+ Hangouts doesn't mean that other people will know how or want to. So, it can be helpful to have alternative methods, such as being able to call people over the phone.
The most important thing is that you have great audio and decent video. Bad audio ruins everything, no matter how awesome the rest of the show is.
With those basics figured out, don't worry too much about advanced tech, like the ability to have people login to the chat with the usernames and passwords that they have on your community. That is nice, but for many people, not worth the effort. As long as people can hear, see and participate, you'll almost always be in good shape.
Get Organized
Planning is vital. Not just the tech, but the content. How long is the show? What are you going to do? Who will host? Who will you have on? What will you ask them? Develop these plans, come up with a list of guests and invite them. Some will say no, some will say yes. But think carefully about how you spend your time.
One thing that I have found is that if you plan for 3 hours of content, you are actually planning for more than that. There are always impromptu extras. There are things from the chat, there are technical issues. I would plan for less than what you need time wise to allow some freedom or, at least, make sure that you know exactly you must do. You can always have a list of extra, optional stuff to fill time, if you need. Just make sure you do what you came to do.
Working With Guests
With your guests, it may be necessary to provide them with specific instructions so that they will be ready when the time comes. Perhaps to even do a quick test run with them if you are wanting to do more than just a phone call.
The more they have to do, the better the instructions need to be. You may want to include screenshots with highlighted sections indicating where they should click and what they should do. It depends on how technically savvy your audience is.
Audio quality is important, so if you are wanting people to use Skype or Google+ Hangouts, you will want to make sure they have a decent microphone. You should also tell them to wear headphones, keep the room as quiet as possible and avoid WiFi if they can. You want to strengthen their audio quality. Cheap microphones can produce decent quality audio in the right setting.
Making it an Event Makes it Special
The core of your community is text-based and there is a reason for that: it's how people are comfortable engaging. That break from normalcy is what makes this live streaming event special and a must attend.
If you do it every week, it's generally not going to be as special. My aim isn't to discourage you from doing live events, but to make sure you are doing them in a way where it really means something, where it isn't just another bell and whistle that takes away from your core. You want it to be something that no one wants to miss because it doesn't just happen every day.
When you make it special, it is really rewarding and makes for a great time for all involved.