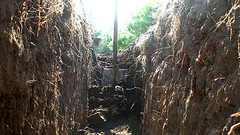 photo
credit:
timlewisnm
The other day, I was looking at the Twitter stream of an acquaintance of mine and I clicked on the username of someone he was talking to. I opened that person's website and I found myself thinking, "that sounds familiar."
It took me a while to place it, but then I realized that the person was a spammer. Or, at least, they had spammed my community previously. They had joined in 2007 and posted a few spammy messages, even going so far as to encourage people to click ads on his site or commit click fraud, as it is commonly called. I removed the messages and banned the account.
Then, the person created a second account and made a few more posts advertising his service. This time he even pretended to not be affiliated with it, referring to his own service as "they." Those were removed and he was banned again. In addition, because of the continual deceptive practices, I blocked the site from being mentioned again, which put an end to the spam.
Virtually no one knows that he did this. But I do. And if he did it to other communities, those community managers do, as well.
I don't say this for it to seem threatening, but people who engage in those tactics should feel threatened. I find it interesting how people think that the world will forget their misdeeds if they eventually experience some measure of success. Personally, whenever I see the service, all I can think of is spamming and deceptive marketing.
Community managers know where the bodies are buried. Be careful.