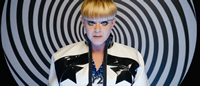 I tell people to listen to their customers and their community. You should. But what I'll never tell people is to do whatever their community tells them to do or, worse yet, orders them to do. This is especially true for creative professionals: musicians, singers, actors, directors, writers and performers of all kinds.
I was reminded of this today as I was reading comments on the Facebook page of Robyn. Recently, she collaborated with comedy rap trio The Lonely Island for "Go Kindergarten." The group, which I'm a big fan of, just released the music video for this song, which also features hilarious cameos from Sean "Diddy" Combs and Paul Rudd. I'll include an embed of it in the bottom of this article. Fair warning: it is for mature audiences only.
When this video was released, an update was posted on Robyn's Facebook page. The comments that have been posted so far on that video are an interesting mix of reasonable feelings (positive and negative), confused people who don't understand that The Lonely Island is a comedy group, intolerant anger and demanding entitlement. Here are some highlights (words censored by me):
"Robyn stop all the bulls*** and get your a** back in the recording studio."
"this is insanely s*****. what a pity somebody as fantastic as robyn takes part in such a lame act."
"Dear Robyn, with all your talent and unique personality why would you join this piece of garbage?"
"I can not believe somebody as AWESOME as Robyn will be part of this s***!…. Robyn we need you back with your own music"
"This is NOT you. "Wipe your d****" "Have a baby on the dancefloor" That's things are below you level of talent. I think you should come out with your own new ablum. Your way to amazing for people like The Lonely Island and Snoop Dog!"
"She is a amazing story teller and needs not back up, some bottom feeder band."
"dont waste your talent!!!"
"I'd rather not to be alive to see Robyn taking place into something like this."
"Robyn sold her soul"
"be a signer what u are and not back-vocal 4 every stupid desperate band in the world"
"Looks like shes gone for that masonic black and white illumanati vibe. Lost all her indivdualism. Well done"
My personal favorite, which has nothing at all to do with this article but is hilarious if you know who The Lonely Island are: "How did The Lonely Island even become a singing group anyway? All they do is just yell bad lyrics at you!"
These comments are a little disturbing, but what they essentially say is:
As a fan, I decide who you can collaborate with and who is beneath you.
As a fan, I decide what you can make songs about and what is beneath you.
As a fan, I decide what is worthy of your time and what is not.
These are exactly the type of comments that make artists not want to read what people are saying about their work, even though there is value to listening in general.
Artists change. They grow. They do different things. They experiment. They make things that are not so well received. They make things that some of their fans don't like or identify with. That doesn't mean that they made something bad or something they shouldn't have made. It might mean that they are making the work they are most proud of. Who knows? That's what being an artist is all about.
Robyn is a performer and, as a creative person, she needs to do the things she finds exciting and collaborate with the people she wants to work with. If she decides to do it, then it is worthy of her time. She is the sole judge of that. If you are a fan of Robyn, you must reasonably accept that she likes The Lonely Island and wanted to do this song. Otherwise, she wouldn't. She certainly doesn't need to. Her decisions in this area comprise the artist that you are a fan of.
Listening is great, listening can give you excellent ideas and can influence you in a helpful way, if you want it to. But you have to be careful not to let it own you. You have to have a strong filter in place to throw away most of it, but keep the really good stuff. The creativity that an artist has is unique to them and they must feel free to create on their own terms. The community that develops around artists is based on that creativity, but when you let your community dictate what your creativity is and what it means, you lose it.