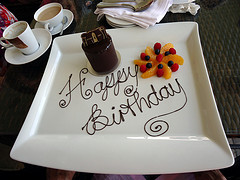 photo
credit:
barbourians
As of July 2, it has been one year since Monetizing Online Forums was released.
For me, and for Skimlinks, the book was an experiment. Write a book, treat it like a real book that you'd expect people to pay for, and give it away for free. A project that was supposed to be 10-20 pages and be done in a month or two was expanded to around 100 pages and developed over a period of 9 months.
Would there be enough interest in the book – a work focused on the monetizing of "forums," not "social media" – to justify the investment of time, resources and money?
New Rules
It's funny to me that I'm writing this on July 4, the day that Jay-Z's new album was given away for free to the first one million Samsung Galaxy users to download a free app. When he announced the promotion, he talked about how the internet was the "wild wild west" and how the "new rules" needed to be written. Samsung paying him for one million albums to give away for free is part of those new rules.
Before Jay-Z did a deal with Samsung, I did a deal with Skimlinks.
We dumped traditional methods that companies use to get their value out of free ebooks meant as marketing gimmicks. Namely, list generation, whether in the form of an email newsletter or a required app download. Give us your email address and here's a white paper that teases our services. But that's not what this was or what I would have wanted to be involved with.
Instead, Skimlinks gave me full creative control of the work and allowed me to put together a team of people to expand on my own knowledge – Alicia Navarro, Ted Sindzinski and Todd Garland – and take the time I needed to assemble a complete work. They took minimal branding on the front and back cover and a foreword that Alicia wrote and that's about it. No tease, no hooks in you, nothing. Take it, read it, use it… maybe check us out if you want.
Results
12 months later, the book has been downloaded over 12,000 times. Actually, it's been downloaded more than that. But we count the numbers conservatively so that it is essentially unique IP addresses calculated weekly.
I really wanted the book to be something that people would derive value from over a long period of time and, as such, a work that would continue to be downloaded over a long period of time. Not just a few days, a few weeks or a few months. Not just during an initial promotional period. But for years to come.
That we have been able to sustain an average of more than 1,000 downloads per month shows that we have accomplished that. The past week – June 25 through July 1 – was our most popular week for downloads since October 30 through November 5. People are still downloading it and finding value in it, a year later, and that makes me happy.
Thank You
I'd like to take a moment to thank everyone who has downloaded the book and spread the word about it. In the end, that is the biggest measure for us – that people find that the work is worth their time. Reviews by people like Jason Falls, Sue John, Carol Lynn Rivera, Dave Cayem and Grant Griffiths really meant a lot.
Thank you to Alicia, Ted and Todd for making the book unforgettably better. Thank you to Skimlinks and everyone who contributed to the project over there (Alicia, Joe Stepniewski, Aaron Weissman, Meghan Bender, Barbara Somlai, Ellie Tzoni, Jo Harris and Jurg Schwalb). Thank you to all of our partners who have promoted the book, including Scott Fox, ClickMillionaires.com, Allison Leahy, Ning, BuySellAds, Brandon Sheley, Admin Talk, Jeremy Rogers, phpBBHacks.com, Ramona Iftode, TopAdmin.net, Joe Ward, Launch.forum, Rebecca Newton and e-mint. I'm grateful for your support.
Where will we be after two years? I look forward to finding out. Thank you.