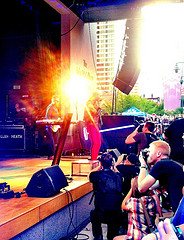 photo
credit:
Claire Cook44
You've probably heard about Miley Cyrus performance at the MTV Video Music Awards on Sunday. No need to rehash it.
I find that things like this bring out the worst in people. People, who otherwise will act normal, take to the internet and say things that they'd never say to Cyrus' face or to a complete stranger. They are outraged and offended by something that doesn't really impact them in any way. But the internet gives them a voice and so they use it.
My Facebook stream was full of it, as yours probably was, too (if you use Facebook). I had things to do and don't really have any opinion on Miley Cyrus. If she posts on Twitter that online forums are dead, maybe I'll need to weigh in. Otherwise? I'd much rather tell you that I thought Drake's performance was great and get back to work.
Read More