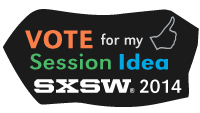 South by Southwest (SXSW) has opened the PanelPicker for the 2014 edition of their conference. It is one part of the selection process through which they decide the content for the event.
I have been fortunate enough to speak five times at SXSW Interactive, the emerging technology and digital focused portion of the conference. In 2014, I'll be bringing my brother down to the event for the first time. He's pursuing a career in the film industry, so he's really excited to attend SXSW Film, which occurs during Interactive.
I'd love to have the opportunity to speak again this year and, to that end, I wanted to ask if you would consider voting for it. The public voting portion of the event, which runs from today through September 6, accounts for 30% of the decision process – 30% also goes to the SXSW staff, with 40% to an advisory board.
You can vote on their website, but let me tell you a little about it.
My Proposal
My idea for this year is Write a Book, Give it Away and Get Paid #New Rules. I feel really strongly about it, believe it can help people and would have excited to present it.
On July 4, Jay Z released a new album, Magna Carta Holy Grail. But you couldn't buy it. You could download it for free – but only if you were 1 of the 1st million Samsung Galaxy S III, S 4 or Note II users to download a free app.
Samsung agreed to purchase 1 million copies of the album, partnering with Jay Z on a marketing campaign that brought them value by association. On Twitter, he referred to this strategy as part of the #NewRules.
One year earlier, I had partnered with Skimlinks to release a new book for free. We treated it as a real book, not a gimmick like most free ebooks. No email address required to download! I was paid like I would have been by a traditional publisher and was given unquestioned editorial control.
In 12 months, over 12,000 copies were downloaded. The book has been well received. I'm happy. Readers are happy. Skimlinks is happy. I want to share how we did it, in detail, to empower talented writers and creative companies to engage in similar efforts that create value for all.
I delved a little deeper into it in my accompanying video proposal.
Vote Now
If you like the idea and would like to see it at the event, please vote on their website. If you will be attending SXSW 2014, I look forward to seeing you there. Thank you for your time and consideration.