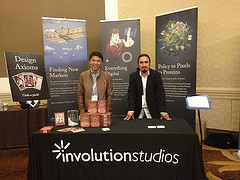 photo
credit:
juhansonin
Earlier this week, I wrote about organizing low-key meetups with your community members at conferences and events. This approach is limited, though, because if you are not sponsoring an event, you should really only engage in behaviors that do not compete with the conference and its sponsors, otherwise you risk breaching conference policies or ethical standards.
By sponsoring an event, you open yourself up to a bigger world of opportunities. You are simply allowed to do much more. Each event will vary, but sponsorship has its perks. In how you can interact with attendees, how you can promote your community and how much the conference organizers can help you.
Sponsorship
Most conferences have a varying level of sponsorships ranging in price. Everything from putting your logo on the website to being the presenting sponsor and the biggest brand people see everywhere. You have to make the decision that makes financial sense for you. But it may cost less than you think to be a sponsor of an event. Check out the conference website or ask to see a rate sheet.
Smaller conferences will likely be more flexible for less money. They have more to prove, they have less attendees and so they charge less. That doesn't mean you can't get value from them. Being a bigger fish in a smaller pond can have its benefits. $1,000 to a small conferences can mean so much more than $1,000 to a big conference and, as such, they may be willing to work harder with you to make sure you get value. My point: conferences of all sizes offer value and options for budgets large and small.
Bartering
Don't forget that your community represents an audience of potential conference attendees. This has value to the conference and there is a fair chance that they'd be willing to barter with you. To exchange promotion on your site for conference related considerations like tickets, booths, sponsorship, a discount on sponsorship, etc. If you can't come up with the money for what you want, but you have a great community, the conference may be willing to work with you to come up with a mutually beneficial arrangement.
Being Present
You shouldn't just pay money and expect to get value. You should be at the conference in person. It should be about both being present for your current members and bringing in new people.
For the current members, you can hold meetups for them to connect in person and with staff. Putting a voice and face to the username is such an amazing experience and it tends to change how people view an online community. It means more to them now.
You'll be introducing your community to a lot of new people, so be prepared to explain the benefits of it. Have business cards printed with the community info. Put the community manager's contact info on them and encourage them to contact the community manager if they have any questions.
Booths
If you go with a booth, know that you will have a bit more of a challenge than someone who is showing off a cool new gadget that you can hold in your hand. It's harder to get people to think about a website. But it can be done, with an attractive booth and friendly people. You can set up computers for people to register on the community and maybe all people who register at the conference are entered in a prize drawing.
Encourage your current members to come to your booth and hang out, telling prospective members about their experiences. This will help your booth to maintain a healthy level of activity, as opposed to looking dead.
Running an online community, it is easy to get caught up in the digital world. If you can, get out there and meet your members in person. Conferences are a great way to do that.