Posted by Patrick on February 20th, 2014 in
Resources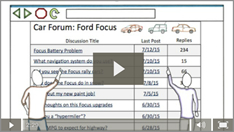 Lee LeFever understands community. He was a community manager from 1998 through 2003. That experience led him to found Common Craft in 2003. They are renowned as explainers – they specialize in videos that break down complex concepts in a couple of minutes, with a unique style and voice that is often imitated, but never duplicated.
What most people who know Common Craft probably don't realize is that the company began not as a community management consultancy. It wasn't until 2007 that Lee began making videos with his wife, Sachi. I feel fortunate to have known Lee as long as I have. It has been amazing to watch how Common Craft has grown and become so successful and I couldn't be happier for them.
In September, I received an email from Lee. He said that someone had requested an explanation of forums. Awesome, I thought. That's a great thing for forums, as a whole. Better yet, he asked if I was interested in serving as a content advisor on the video, helping to shape the content of it. I happily agreed.
For me, Common Craft started this whole explainer video thing. It's like Diddy and the remix. Oh yeah, I'm sure people were doing it before them, but no one did it like them. A Common Craft video is an event, it's a special thing, not just another web video. In other words, to be invited to contribute to one of their videos is an honor.
On Tuesday, Common Craft released their latest: Online Discussion Forums, Explained by Common Craft. Watch it below.