Posted by Patrick on March 20th, 2014 in
Resources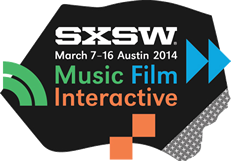 If you are a regular reader, you know I've missed a few days of my usual Monday, Thursday schedule. Sorry about that. I think this is the first time I've missed a day since September of 2011. I take the schedule pretty seriously.
There are two big reasons for my break: South by Southwest (SXSW) and my health. SXSW was great once again. My health, not so great. I caught something, as can happen when you travel. I'm getting better slowly, even if it is still hanging on.
I'm working on getting back into the swing of things and I thought it would be fun to introduce you to some of the community management professionals that I met in person, for the first time, at SXSW. That way, you can check out their work and become familiar with them, as I have.
Carrie Melissa Jones
Carrie is the Head of Community at Scribd. Originally known as a document sharing platform, they have pivoted recently to become a "Netflix for books" style service. With a background in educational publishing, Carrie joined Scribd a few months ago and is working on building out what community means for the platform.
It was only last month when I first connected online with Carrie – I think it was this tweet by Ning's Crystal Coleman that introduced us – mostly to discuss the prospect of my first book being released on Scribd. It was great to be able to chat face-to-face with that conversation fresh in my mind.

David DeWald
Where I'd just recently met Carrie, I've been talking online with David for at least a couple of years. It may have started with him sharing some of my writing, which I thanked him in person. He is currently the Customer Success Community Manager for Thunderhead.com, a cloud software company specializing in enterprise engagement and customer experience management.
David has a deep background in community management, rooted in gaming. Like many of us, he began by launching his own online community around a topic of interest. After successfully managing his community for nearly 9 years, he leveraged that experience to land a community manager role with a well known gaming company. His career path eventually led him to the software space.

Tim McDonald
I first connected with Tim due to his work at My Community Manager and the accompanying Google+ community. They hosted a Community Manager Appreciation Day event that I was a part of and we regularly bumped into each other after that. Tim is the Director of Community at The Huffington Post. He became involved in community management in 2009 when he took the role of Community Manager and Director of Communications for the Chicago chapter of Social Media Club.
My Community Manager is a solid resource and I've enjoyed participating in their events over the years. Tim deserves credit for launching it. He has since passed the day-to-day reigns over to Jonathan Brewer and Sherrie Rohde.

It's always fun to meet people that you know online, in person for the first time. And it's great to see people you haven't seen in a while (like Bill Johnston and Jake McKee, both of whom I was happy to run into). I always love connecting with people in this space.