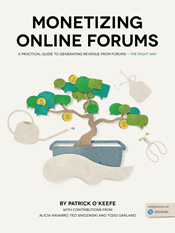 Monetizing Online Forums was released two years ago. The ebook, offered for free thanks to Skimlinks, has now been downloaded over 25,000 times (25,382 to be exact).
My home is about to be hit really hard by Hurricane Arthur, but I didn't want to let this milestone slip by. I would like to take a moment to thank everyone who has downloaded the book and spread the word about it. In a sea of free ebooks, I am grateful that you gave it a chance.
I would like to thank Alicia Navarro and Joe Stepniewski at Skimlinks for their support, as well as Alicia, Ted Sindzinski and Todd Garland for their outstanding contributions to the work. Without you, the book would have been based on my knowledge alone – and it would have fallen short. I would also like to recognize Barbara Somlai for her outstanding cover design, which I still love to this day.
With this book, my aim was to do something different: to offer a free ebook treated like a real book, offered with no strings attached. 9 months in development, meant to be authoritatively, no lead gen tied to it (no email requested to download it). I am humbled by the response to it and am glad that it still offers as much value now as it did two years ago.
If you haven't downloaded it, please give it a look. Think good thoughts for those of us on the Outer Banks of North Carolina – and everyone in the path of Arthur!