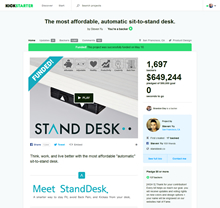 Kickstarter is looking for a VP of community and it looks like a wonderful opportunity. Real community work in a challenging, but rewarding atmosphere.
What really caught my eye was this: "The VP of community is responsible for three key areas of our operations: Community Support, Community Engagement, and Integrity."
An Integrity team that reports to the VP of community. I've never seen that before, but I love it, and it works. Especially for Kickstarter.
This is how they describe the Integrity team:
We listen. We didn't just build Kickstarter – we've been lovingly tending to it since we launched in 2009. Our Integrity team is always watching over the platform and reviewing reports from the community. Our community helps us make sure this is the safest, most effective platform around.
We monitor the system. Our Integrity team uses complex algorithms and automated tools to identify and investigate suspicious activity on projects.
We take action. Sometimes that just means asking someone to fix a problem. But when we find users or projects that abuse the system, we don't hesitate to suspend them.
Notice the word "community" in there? The community plays an instrumental part in helping them to do their job – which is ensuring that people can trust Kickstarter. That's a big deal. If people can't trust Kickstarter – as a backer or as a creator – Kickstarter will be in trouble. The Integrity team is vital to Kickstarter, and it is the responsibility of the VP of community to oversee their efforts.
It makes perfect sense because integrity is so important to community building. Derek Powazek said it best.
… my number one rule for community building is: Do Not Lie. The internet is very good at ferreting out liars. Community building is all about trust, and once you lose trust, it's gone forever. Do not lie to your community. Ever.
This is also a great example of a progressive community role, one that emphasizes the growing importance of community in business. This isn't a forced collaboration – they didn't take an unrelated thing and try to pass it off as "community" for some kind of feel good moment. Integrity and community really do go hand in hand at Kickstarter.